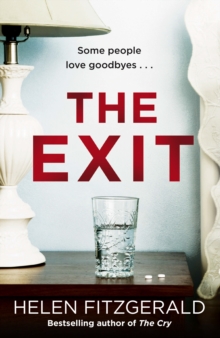 Description
Some people love goodbyes...23-year-old Catherine is mainly interested in Facebook and flirting, but she reluctantly takes a job at a local care home after her mother puts her foot down - and soon discovers that her new workplace contains many secrets.
One of the residents at the home, 82-year-old Rose, is convinced that something sinister is going on in Room 7 and that her own life is under threat.
But Rose has dementia - so what does she actually know, and who would believe her anyway?
As Catherine starts investigating Rose's allegations, terrible revelations surface about everyone involved.
Can Catherine find out what's really going on before it's too late?
Information
Format: Paperback
Pages: 320 pages
Publisher: Faber & Faber
Publication Date: 05/02/2015
Category: Crime & mystery
ISBN: 9780571287895
Free Home Delivery
on all orders
Pick up orders
from local bookshops
Reviews
Showing 1 - 1 of 1 reviews.
Review by shelleyraec
16/06/2015
A disturbing novel of psychological suspense, The Exit is Helen Fitzgerald's eleventh book.The narrative alternates between the perspectives of 23-year-old Catherine, an unemployed, arrogant party girl, and Rose, an 82-year-old children's book author and illustrator suffering from dementia, whose hold on the present is tenuous. Rose is a resident of Dear Green, a small private care home in Glasgow, Scotland, and the two meet when Catherine, at her mother's insistence, reluctantly accepts a job in the private facility as an aide.Of the handful of residents, Catherine is least repulsed by Rose, and when the old woman offers her £1000 to deliver a message she is happy to humour Rose's ravings about 'truth' and 'Room 7'. Catherine is thinking only of escaping to Ibiza to work on her tan when she discovers some creepy entries in the care log and she begins to suspect that Rose might be right, something is very wrong at Dear Green.There are several unexpected twists and turns in The Exit which eventually exposes a dark and perverted secret but not before Catherine and Rose almost become victims of their suspicions. I was slow to warm to Catherine, who seems determined to live up to the stereotype of Gen Y, while Rose's dementia, and tragic past, inspires a mix of pity and admiration, but I found myself anxious for the welfare of both women as the story unfolded.There was a major element of the story, involving Catherine's mother, that didn't really work for me. I can't reveal too much without risking spoilers but I felt it was an odd addition to the plot. In addition the conclusion was more ambiguous than I would prefer.The story feels a little slow to start as Fitzgerald establishes character but the pace picks up, and The Exit is a quick read. What I didn't really expect was the vein of humour that occasionally leavens the horror.The Exit is an unsettling thriller, though I didn't grip me the way The Cry did, I did enjoy it.