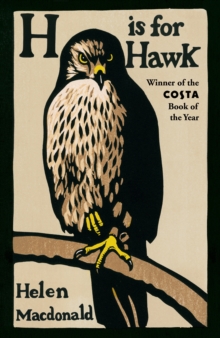 Description
THE NUMBER ONE BESTSELLER**WINNER OF THE COSTA BOOK OF THE YEAR****WINNER OF THE SAMUEL JOHNSON PRIZE FOR NON-FICTION****WINNER OF THE PRIX DU MEILLEUR LIVRE ETRANGER**As a child, Helen Macdonald was determined to become a falconer, learning the arcane terminology and reading all the classic books.
Years later, when her father died and she was struck deeply by grief, she became obsessed with the idea of training her own goshawk.
She bought Mabel for GBP800 on a Scottish quayside and took her home to Cambridge, ready to embark on the long, strange business of trying to train this wildest of animals. H is for Hawk is an unflinchingly honest account of Macdonald's struggle with grief during the difficult process of the hawk's taming and her own untaming.
This is a book about memory, nature and nation, and how it might be possible to reconcile death with life and love.
Information
Format: Paperback
Pages: 320 pages
Publisher: Vintage Publishing
Publication Date: 10/02/2015
Category: Wildlife: birds & birdwatching
ISBN: 9780099575450
Other Formats
Hardback from £11.25
Paperback from £8.59
EPUB from £5.49
eAudiobook MP3 from £8.80
Free Home Delivery
on all orders
Pick up orders
from local bookshops
Reviews
Showing 1 - 5 of 6 reviews.
Previous | Next
Review by Eyejaybee
16/06/2015
Over the years I have caught glimpses of various hunting birds - the occasional osprey and several eagles, including golden ones, up in the Scottish Highlands, and, just a few months ago near Coulsdon I came across a kestrel that had just brought down a wood pigeon. I am fairly certain, though, that I have never seen a goshawk. Judging by Helen Macdonald's marvellous book even the most fleeting glimpse of a goshawk would be burned into ones memory for ever.This book might more accurately have been called 'G is for Goshawk' for although Macdonald offers a potted history of the broad ambit of falconry, it is with goshawks that she is principally concerned. Wracked with grief at the sudden death of her father she seeks therapy through buying a young goshawk, whom she names Mabel, and undertaking to train it. All hawks, it seems, are troublesome creatures, and training them is a battle of wills that stretches bird and falconer to their very limits. Macdonald's goshawk is certainly no exception and she describes her struggle to bend Mabel to her will.The descriptions of the bird's appearance, and its movements (whether in outbursts of furious temper or, later, its graceful flights launched from Macdonald's fist, are masterful, almost hypnotic. Once fully trained, the partnership between hawk and hawker is as close as that between shepherd and sheepdog, though executed with infinitely more grace.The book is, however, far more than a simple account of Macdonald's experiences training the goshawk to do her bidding. She gives us a detailed history of the falconer's art, a deep insight into the natural history of the hawk family, and a dazzling biography of T H White, now best known for his works 'The Sword in the Stone' and 'The Once and Future King' which did so much to crystallise the public's understanding of, and fascination with, the Arthurian legend. Macdonald's interest in White is, however, prompted by another of his books, the less well known account of his own attempts to train a goshawk. This chronicle, simple called 'The Goshawk' captured MacDonald's imagination as a girl, and ultimately inspired her to acquire and train her own bird. White's experience with his own goshawk, like so much else within his tortured life, was not a happy one, and the book is, by all accounts, a difficult and tortuous read. That is far from being the case with Macdonald's wonderful work which also serves to show that even the deepest grief can, gradually, eventually, be overcome.
Review by reading_fox
16/06/2015
A brutally honest account of one women's struggle to come to terms with the death of her father and cope with her grief, interspersed by ramblings and quotes for TH Whites books especially Gos, and also some anecdotes about her training of a Goshawk called Mabel. The Hawk stuff was the most interesting, her personal biography sort of equivalently so, but in a voyeuristic why do I need to know so much about her personal life kind of way, and the White meanderings very boring interludes to be skipped over. Maybe slightly more interesting to those who've read his books or studied his life, but only as a counterpoint to the opposite directions she's taken. Helen was raised as a typically middle class english girl, her parents both loved her and had money sufficient for treats but not extravagances. She went to university and started her career as a professional academic. Her father was a photo-journalist who introduced her to his hobbies, and the book opens with his death from heart attack, and quickly moves on to how this devastates her life, even though she'd been living independently for some time, the knowledge that the rock of support he'd always offered her, had suddenly crumbled. We follow her into and through her depression, and her withdrawal into a world dominated by caring for Mabel, and training her to fly. Helen has previously owned and flown other hawks so this isn't a completely amateur effort. She does know, care and understand what she's doing. I found it strange that there was so little reference to her other hawks though. It is alsi strange that there was so little personal interaction at any other point - for the period of almost a year, she has a few short meetings with friends and family and one - pre-mabel - "car-crash" of a relationship, that is not described in any detail (again an odd omission when she is so frank about her mental states). It is reassuring that single women don't feel the need to rush into relationships, but the complete absence of any kind of romantic interlude throughout the whole book perhaps indicates a bit just how disturbed she was at this time.Points to praise - the acknowledgement that the english countryside is completely artificial product of thousands of years of human management, and this isn't necessarily a bad thing, but that it isn't 'natural'. Secondly a profound absence of anthropomorphism on behalf of Mabel. She is a Hawk, and doesn't see the world in anything but in a Hawk's eye. Helen sometimes mistakes this, but always comes back to the correct interpretation. Not really my cup of tea, but t times very powerful and engaging. Sadly these moments of deep pathos were then spoilt by trite commentary and speculations about TH White, of whom I could hardly care less. A talented author I would be interested in finding out what else she has written on less personal matters. At times though the impression given was that I had nothing better to do with my time so I wrote a book about my experiences, which is not the point that was being made.
Review by bodachliath
16/06/2015
A captivating, well written and thought provoking memoir of the author's experiences of training a goshawk while coming to terms with her father's death. Despite my lack of knowledge or previous interest in falconry, the book drew me in very early. Much of it is also about the writer T.H. White and his book "The Goshawk", whose story is interwoven with Macdonald's own.
Review by Glorybe1
27/01/2016
I loved this book, written by Helen McDonald after her father sadly passed away. She was going through an extremely hard time trying to accept it and I am sure she would be the first to admit she lost it for a time!Helen had experience with Hawking and loved falconry in general, after reading a book by T H White about his efforts to train a Goshawk (one of the most difficult to train apparently!) she decided she just had to try it.The story is about her slow and painful recovery from her fathers death and her training of "Mabel" her Goshawk. She went through all kinds of emotions and feelings and not a little physical difficulty training Mabel, and I loved her journey from start to finish. A wonderful book about healing and acceptance.
Review by pokarekareana
10/11/2015
Helen Macdonald's world is thrown askew by the sudden death of her father. An enthusiastic ornithologist, she decides that this is the perfect time to procure and train a falcon. This book details that journey. The one redeeming feature of this book is that it is exceptionally well-written, with some beautiful prose that captured her experiences. I suspect this is the reason why the book has proven so popular, and has won awards.I struggled to find anything else good to say about this book. I read it for a book club meeting, and if I hadn't felt compelled to push on through for that reason, I would have given up within the first twenty pages. I found the story-within-a-story-within-a-story structure really started to grate after a while. I have extremely limited interest in matters ornithological, admittedly, but I found the characters so peculiarly obsessed with their feathered friends that the story seemed quite sinister at times. A rather fowl reading experience.