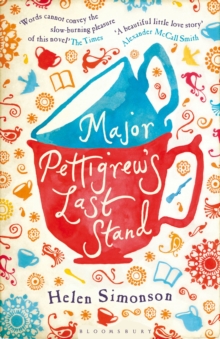 Major Pettigrew's Last Stand
Paperback
Description
Major Ernest Pettigrew is perfectly content to lead a quiet life in the sleepy village of Edgecombe St Mary, away from the meddling of the locals and his overbearing son.
But when his brother dies, the Major finds himself seeking companionship with the village shopkeeper, Mrs Ali.
Drawn together by a love of books and the loss of their partners, they are soon forced to contend with irate relatives and gossiping villagers.
The perfect gentleman, but the most unlikely hero, the Major must ask himself what matters most: family obligation, tradition or love?
Funny, comforting and heart-warming, Major Pettigrew's Last Stand proves that sometimes, against all odds, life does give you a second chance.
Information
Format: Paperback
Pages: 400 pages
Publisher: Bloomsbury Publishing PLC
Publication Date: 14/08/2010
ISBN: 9781408809556
Free Home Delivery
on all orders
Pick up orders
from local bookshops
Reviews
Showing 1 - 5 of 13 reviews.
Previous | Next
Review by ReviewsbyMolly
16/06/2015
Another new-to-me author and one that I truly recommend! Helen Simonson writes this debut novel with a seasoned author's skill. Her characters are complex and witty and her plot is full of beautiful British charm. Major Pettigrew's character quickly stole my heart. His sweet wit and loving charm as he grew to accept his late-in-life changes, really drew me in. His growing feelings for widowed Mrs. Ali was fun to watch. Their affection for each other through out this story, despite their cultural differences and village gossip, was wonderful to witness. Ms. Simonson's debut is one that will charm any book lover. It instantly captures you and takes you on a whirlwind ride of fun British quirkiness, and will set you down, unexpectedly, amongst your charming new friends! This is definitely a 4 star novel, worthy of recommendation. Major Pettigrew's character will leave you smiling and glad that you took the time to get to know him and Mrs. Ali, and all the wonderful characters of this interesting love story! I look forward to many more books like this from this very talented new author and I am sure you will, too!
Review by msf59
16/06/2015
Things are not looking very rosy for the old Major, in these opening pages. He buried his wife six years earlier. He has a strained relationship with his only son and now, quite suddenly, his younger brother dies. He is alone.In walks Mrs. Ali, a Pakistani shop owner and widow. She offers the Major support and comfort. A friendship ensues and this unlikely pair begin to prove that there are second chances in life. This is a wonderful story set in a picturesque English countryside. The characterizations are beautifully realized and you will quickly find yourself falling for the Major and Mrs. Ali, wishing you could follow them forever. Highly recommended.
Review by maneekuhi
16/06/2015
This is an excellent book, very well defined characters, and a storyline that makes the book very hard to put down. I loved the characters especially, felt like I met and came to know very well a dozen new people. I appreciated how they stayed within themselves and didn't step out of character for a pat resolution of situations. This is a story about values, manners, growing, accepting - and love. It is a grand love story, but it is not a "romance". This is a story you don't want to end, while rushing ahead trying to imagine what twists lie ahead - and how will it end (?). I will be looking forward to the next from Ms. Simonson with eager anticipation.
Review by jovilla
16/06/2015
Lovely book! Major Pettigrew is a lonely 68 year old widower, set in his ways, in a small English village. He often visits a nearby shop owned by the delightful Mrs. Ali, a Pakistani widow who is in every way the Major's intellectual match, even though their association is viewed by the local community as very inappropriate. The book is filled with quirky characters especially the Major's son Roger and Mrs. Ali's nephew Abdool Wahid. This was a very enjoyable read.
Review by 1Owlette
16/06/2015
Touching, funny and original love story between two mature characters with different backgrounds but a strong spiritual affinity. Set in a sometimes alarming English village. Major Pettigrew is a retired widower; Mrs Ali, at first a distant acquaintance, runs the village shop.
Also by Helen Simonson