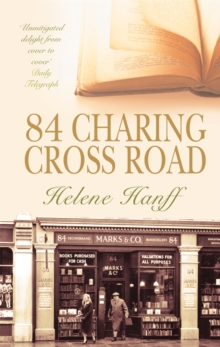 84 Charing Cross Road
Paperback
Description
This book is the very simple story of the love affair between Miss Helene Hanff of New York and Messrs Marks and Co, sellers of rare and secondhand books, at 84 Charing Cross Road, London'.
DAILY TELEGRAPHTold in a series of letters in 84 CHARING CROSS ROAD and then in diary form in the second part THE DUCHESS OF BLOOMSBURY STREET, this true story has touched the hearts of thousands.
Information
Format: Paperback
Pages: 240 pages
Publisher: Little, Brown Book Group
Publication Date: 01/10/2002
Category: Biography: literary
ISBN: 9781860498503
Other Formats
Paperback from £6.29
Hardback from £14.05
Free Home Delivery
on all orders
Pick up orders
from local bookshops
Reviews
Showing 1 - 5 of 5 reviews.
Review by Fluffyblue
16/06/2015
Excellent book (this particular one contained two books - 84 Charing Cross Road and The Duchess of Bloomsbury Street). Highly intelligent, very witty (in a dry way if you like that kind of thing), but very warm. Helene Hanff comes across as a wonderfully amusing person.
Review by elliepotten
16/06/2015
My copy of this book included both '84, Charing Cross Road' and 'The Duchess of Bloomsbury Street.' In terms of the former, I am definitely drawn to books that are witty, charming, and full of, well, books - so this, er, book, a compilation of letters between two witty, charming people brought together by, yes, books, fits the bill perfectly! Helene Hanff wrote to the Marks &amp; Co. bookshop in London's Charing Cross Road for twenty years, acquiring all kinds of books from them without ever leaving her typewriter. In doing so she broke down the reserve of Frank Doel, her chief correspondent and buyer at the bookshop, and formed friendships with everyone from his wife to his colleagues to his elderly neighbour. Her generosity and wit charmed her English friends just as they charm readers still. Although the book is short, it is just delicious to read, putting a happy smile on the reader's face on every page. It evokes nostalgia for the 'good old days' of bookselling, and I could almost smell the dusty pages as Helene opened each new package, freshly arrived from England. I just wish there were more letters remaining from those years to make for a longer book! Now to 'The Duchess of Bloomsbury Street'. Unfortunately, this one <i>didn't</i> blow me away. Sadly Frank Doel died, putting an end to the pair's refreshing correspondence. After years of promising herself she'd get there, 'The Duchess of Bloomsbury Street' sees Hanff finally making her pilgrimage to London. Suddenly in demand after the publication of '84, Charing Cross Road', Hanff's opportunity arises when a British publisher decides to take up the book and asks her to visit London to do some publicity work for the launch. This sequel is her diary of her weeks in England, seeing the sights, visiting the closed-down store she had written to for so long, and, perhaps most importantly, meeting Frank's widow Nora and daughter Sheila at last.Perhaps because her letters are so pithy and giggle-inducingly funny, her lengthier prose disappointed me a little - though her astute observations and ready humour were still in evidence. It was interesting seeing the London of the Seventies through the eyes of an American visitor, particularly since Hanff had romanticised the city for so long, but it definitely fell a bit flat for me. Perhaps because I'm too young to remember the times, perhaps because I'm not an American looking in at English life, perhaps because I've only been to London a couple of times and barely know it at all, perhaps because the bookish world of '84, Charing Cross Road' was something I understood so inherently... whatever the reason, it wasn't a patch on its predecessor. I'll be keeping it because both books are contained within the one volume, but I'm glad I didn't buy it separately expecting more of the same sparkle.I gave the first section 5 stars, the second 3, hence my overall verdict of 4 stars. Now I'm looking forward to watching the movie, which I hear is wonderful and which I am fervently hoping will become a firm favourite!
Review by Luli81
16/06/2015
This edition contains Hanff's letters to Mark and Co sellers and its sequel "The Duchess of Bloomsbury Street". Both books are unusual and delicate treasures for book lovers. The first book contains the letters Miss Hanff wrote to Mark and Co second hand bookshop, and specially, to Frank, one of the sellers there, for more than 20 years. Through the letters we are offered a real glimpse of what would have been like a post war life in Britain and also the attitude of American and British people regarding the historical moments they were living.Helene letters were fresh, witty and they lacked the correct demeanour that her British correspondents required, a fact that gets more and more obvious as the years pass by. She finally breaks though the inflexible English composure and a real friendship emerges from her initial business letters.The second part is an account of Hanff's stay in London where she is finally able to travel to England and see with her own eyes everything she has read about the country and its great writers, always with smart and funny remarks and that dry sense of humour of her, also present in her letters.What can I say? I finished the book in one sitting and I felt I wanted more of that letters...it's easy to get carried away and read between those lines. You have to feel something special to maintain such correspondence with a complete stranger, someone you've never met. The fact that these letters were real makes the story even more compelling and, for once, we have proof that something magic can come out of our everyday lives, we just have to be aware of the little miracles happening all around us.Some quotations from the book:""Anachronism" implies something long dead, and nothing is dead here. History, as they say, is alive and well and living in London.""I am so tired of being told what a terrible place New York is to live in by people who don't live there.""...Shaw once observed, we are two countries divided by a common language."" In London you shoo them away by talking to them. In New York talking to them would just get you their life stories."
Review by Carpe_Librum
16/06/2015
84 Charing Cross Road by Helene Hanff is a book for booklovers, bibliophiles and those nostalgic for the days of letter writing. It is a collection of letters initiated by Helene Hanff living in New York to a second hand bookshop in London called Messrs Marks and Co.Commencing in October 1949, Helene mentions that she is a poor writer and that she cannot find the books she wants in New York, and that the ones she can find are "grimy, marked-up school boy copies." She sends her wish list and a budget, and so begins a 20 year correspondence.Writing back and forth with Frank Doel and requesting volumes, Helene's wit comes across loud and clear and is immeasurably enjoyable for any booklover. Sending parcels during times of rationing and shortages in London, Helene become very popular with the staff at the store, and an amazing relationship builds up over the years.When Frank passes away after a 20 year correspondence, Helene was inspired to write a book, including some of their letters; with the family's approval of course. She fulfils a long held dream to travel to London to promote the book and keeps a diary during her stay. Her diary was published as The Duchess of Bloomsbury Street - her nickname during her stay -and this edition of 84 Charing Cross Road includes The Duchess of Bloomsbury Street at the back. I loved reading the letters for their historical and literary worth and their wit and humour was very uplifting. Here's an example from a letter Helene sends to Frank dated February 9th 1952: "SLOTH: i could ROT over here before you'd send me anything to read. i oughta run straight down to brentano's which i would if anything i wanted was in print. You may add Walton's Lives to the list of books you aren't sending me. It's against my principles to buy a book I haven't read, it's like buying a dress you haven't tried on, but you can't even get Walton's Lives in a library over here. You can look at it. They have it down at the 42nd street branch. But not to take home! the lady said to me, shocked. eat it here. just sit right down in room 315 and read the whole book without a cup of coffee, a cigarette or air." Page 45I heartily recommend 84 Charing Cross Road to those who love books, second hand bookshops and letter writing. This book was made into a film in 1987 starring Judi Dench and Anthony Hopkins and I'm looking forward to watching that next. Has anyone seen it?
Review by sscarllet
16/06/2015
I loved the movie and I loved the book. But I cried cried cried at the end of it. Penpals are almost a mythical thing these days. I think time has really added to the story here. I just love the idea of two total strangers becoming close, almost intimate, friends though simply writing letters to one another. This is a book that I will read again and again.
Also in the Virago Modern Classics series | View all