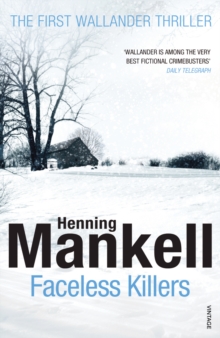 Faceless Killers : Kurt Wallander
Paperback
Description
One frozen January morning at 5am, Inspector Wallander responds to what he believes is a routine call out.
When he reaches the isolated farmhouse he discovers a bloodbath.
An old man has been tortured and beaten to death, his wife lies barely alive beside his shattered body, both victims of a violence beyond reason.
The woman supplies Wallander with his only clue: the perpetrators may have been foreign.
When this is leaked to the press, it unleashes a tide of racism. Wallander's life is a shambles. His wife has left him, his daughter refuses to speak to him, and even his ageing father barely tolerates him.
He works tirelessly, eats badly, and drinks his nights away.
But now Wallander must forget his troubles and throw himself into a battle against time and against mounting racial hatred. Winner of the CWA Gold Dagger for Sidetracked.
Information
Format: Paperback
Pages: 304 pages
Publisher: Vintage Publishing
Publication Date: 01/12/2011
Category: Crime & mystery
ISBN: 9780099571827
Free Home Delivery
on all orders
Pick up orders
from local bookshops
Reviews
Showing 1 - 3 of 3 reviews.
Review by whirled
16/06/2015
I am noticing some definite commonalities amongst the European crime novels I have read so far. The protagonist is invariably a talented detective who sometimes cuts corners, has fraught relations with women and a deep and abiding fondness for the bottle. Throw in some grim weather conditions and a murder or two and you have the recipe for a gripping bestseller. It's a formula to which I confess a growing addiction.Casting about for a new hero recently, I came upon the first installment in the famed Wallander series, <i>Faceless Killers</i>. It's a page turner set in rural Sweden, bringing in elements of racism, corruption and, of course, murder. <i>Faceless Killers</i> is a solid detective story, if a little slower paced than is typical of the genre. I hope to see some development of the Wallander character though; at first blush he struck me as an old, sexist curmudgeon. Bah humbug!
Review by devenish
16/06/2015
Having just read the latest Wallander from the library and greatly enjoyed it,I now read the first of the series.'Faceless Killers' I found slightly disappointing,but I suppose that as it was the first,I must not be too critical. It certainly sets the scene of Wallander's depressing life in his depressing country with his depressing family and colleagues. As for the crime it concerns the double murder of an old couple who lived in an remote farmhouse. They were brutally done to death after being tortured. A vital question is left unanswered at the end of the book,which left me rather unsatisfied.Hope for an improvement in book two.
Review by Daftboy1
27/08/2015
This is the first Inspector Kurt Wallander novel Set in an area called Skane in Sweden during a harsh winter. An elderly farm couple are murdered, Wallander investigates digs deeper looks into their past. Also there is a spate of attacks on refugees no link between cases. Wallander and his team are very patient and finally get the break they need and solve these crimes.First book in the series so its a bit of an introduction to Wallander and his colleagues.
Also in the Kurt Wallander series | View all