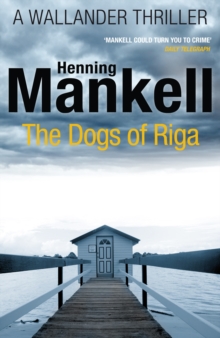 The Dogs of Riga : Kurt Wallander
Paperback
Description
Sweden, winter, 1991. Inspector Kurt Wallander and his team receive an anonymous tip-off.
A few days later a life raft is washed up on a beach.
In it are two men, dressed in expensive suits, shot dead. The dead men were criminals, victims of what seems to have been a gangland hit.
But what appears to be an open-and-shut case soon takes on a far more sinister aspect.
Wallander travels across the Baltic Sea, to Riga in Latvia, where he is plunged into a frozen, alien world of police surveillance, scarcely veiled threats, and lies.
Doomed always to be one step behind the shadowy figures he pursues, only Wallander's obstinate desire to see that justice is done brings the truth to light.
Information
Format: Paperback
Pages: 352 pages
Publisher: Vintage Publishing
Publication Date: 01/03/2012
Category: Crime & mystery
ISBN: 9780099570554
Free Home Delivery
on all orders
Pick up orders
from local bookshops
Reviews
Showing 1 - 3 of 3 reviews.
Review by Mijk
16/06/2015
I bought this by mistake as part of a 3 for 2 deal at Waterstones and read it finally because I was at home very ill over Xmas :( Needless to say, it didn't cheer me up. in the first part, Mankell does his usuall Wallander thing and as usual does it very well, but then quite suddenly the plotline stretches believability a bit too far. Unusually, the implausibility of the plot doesnt stop with one sequence of events, but continues throughout the part of the novel (about two-thirds of it) set in Latvia. If you can suspend disbelief, you can enjoy it as a good thriller, but vintage Mankell it ain't.
I really really really really really dislike detective novels or thrillers and whatnot. Or maybe I just dislike the idea, because it occurs to me I read quite a few Montalbanos...<br/><br/>Anyway! I'm not sure how I ended up watching <I>Wallander</I>, but I did (it probably had something to do with Kenneth Branagh, whose work I enjoy a great deal). I was hooked immediately. Those wide shots of fields and bleak landscape, the colours ranging from bright to bleached were enough to keep watching, but then there's Kurt Wallander too, a train wreck of a character. He's smart, sympathetic, a good cop, a good man and rather messed up because of all these attributes. I'd never seen a TV cop walking around with so much angst before; it was riveting. <br/><br/>I really had to pick up the source material and see how much of it was script, direction and acting choices and how much of it was canon. Both <I>are</I> different, but not a great deal. Wallander's opera-loving side is something more confined to the books, which is understandable since opera and detective are equal to Morse on British telly. The books (of which I've read only two as yet), are somewhat grittier, not afraid to show Wallander in a less than heroic light. <br/><br/>What I'm attracted to in both TV and book Wallander is that he's an infinitely likable character. He's a good policeman, but mostly a good person, both reflective and contemplative, qualities that take him beyond the line of duty and result in his bad health and relations. <br/><br/><I>The Dogs of Riga</I> was only a slog of a read when it was about the crime, something I always find the least interesting in these kinds of books, but where the attention turns to the turning of Wallander's cogs and wheels, it's always gripping and fascinating. Having said that, big freaking kudos to Mankell because this doesn't feel like some little pulp mystery. Changing politics in Europe are the backdrop of this novel's crime and they turn out to be a much more frightening villain than you might expect. <br/><br/>It has to be said, very expertly written.
Review by devenish
16/06/2015
For me this is the best so far of the Wallander series,not least because it involves not only Sweden but Latvia too. The vulnerable and fragile Wallander becomes embroiled in a case which is much more complicated and indeed dangerous that at first envisaged.Much of the story takes place in Latvia and our detective makes several bad mistakes before the end.He also becomes involved with a Latvian woman who is mentioned in some of the other books of the series.
Also in the Kurt Wallander series | View all