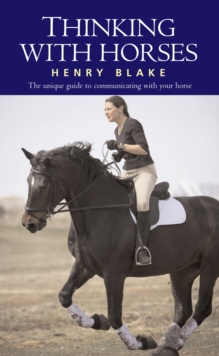 Thinking with Horses
Paperback / softback
Description
Stimulating and practical, Thinking with Horses will help you to achieve real communication with your horse.
Your horsemanship will improve by leaps and bounds, because you and your horse are working together, using the horse's natural instincts to make him want to do what is asked of him. You will learn to understand your horse's physical and emotional drives - his need for food and shelter, companionship and sex, light, movement and stimulation, for excitement, praise and a sense of achievement. Author of the international bestseller, Talking with Horses, Henry Blake draws on his lifelong experience with horses to show how you can motivate your horse to do its best for you, offering a wealth of practical advice on training and schooling techniques, and how to overcome problems. Thinking with Horses represents the wisdom of a lifetime spent working with horses.
It is essential reading for any horse-lover who wants to get the best from his or her animal.
Information
Format: Paperback / softback
Pages: 208 pages
Publisher: Profile Books Ltd
Publication Date: 22/07/1993
Category: Horses & ponies
ISBN: 9780285631540
Also by Henry Blake