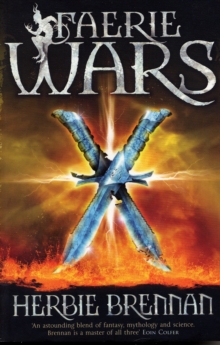 Description
Henry thinks he is simply saving a butterfly from being eaten by Mr Fogarty's cat - but he is in fact saving the life of a misdirected exiled fairy prince.
A prince who has to get back to his own land in order to thwart a threatened attack by the Faeries of the Night.
But time is against Pyrgus Malvae and soon he is relying on Henry and Mr Fogarty not just to get him home but also to solve the puzzle that surrounds his exile.
A wonderful, gripping, page-turning read full of the kind of detail that will ensure that this fabulous fantastic novel will have readers young and old holding their breath as the story unfolds.
Information
Format: Paperback
Pages: 368 pages
Publisher: Bloomsbury Publishing PLC
Publication Date: 04/02/2008
Category: Fantasy
ISBN: 9780747591016
Free Home Delivery
on all orders
Pick up orders
from local bookshops
Reviews
Showing 1 - 3 of 3 reviews.
Review by PacificBlue
16/06/2015
A Nice faery world created, but it felt a little like a Terry Pratchet without the sense of humour. The tale is gripping however, and I wouldn't say no to reading the rest of the series.
Review by crazybatcow
16/06/2015
I bought this book by mistake - normally I don't read fiction written for adolescents - but it turned out to be a decent story. For the most part, you can't tell that it wasn't written for adults.Apparently this is part one in a series of books but it definitely stands alone - the story and characters are wrapped up in the end so you're not left hanging.Over all, I enjoyed it and will probably at some point read more in the series, but it's not a high priority.
Review by Ameliaiif
16/06/2015
Okay, I'm going to give my critique! I still am glassy-eyed from staying up *literally* all night to finish this book! When you cannot pry a book from your fingers, that means it's good, right? I certainly think so. - To be fair: This is a down-the-line sci-fi/fantasy, IMO. As someone who has extremely little patience for and limited understanding of fiction technology, I could have done with less "science" but that's a person-to-person thing. My little brothers read this series and recommended it to me, and they both loved it for these aspects. I give the author props for just being so darn creative! Creativity, to me, should generally outweigh and outshine the more technical aspects of writing, like your "literary elements" and your actual writing style. This is most certainly a "third person omniscient" story in that you as the reader follow literally EVERY character. Most 3rd persons don't do this: they pick one or two characters to follow and you learn about other events through their subsequent discoveries. Sometimes I felt a bit overwhelmed by the back-and-forth coverage, but as the story progressed, it became very necessary to see the plot unfold from different directions. So bravo to that, Brennan! It just took me a few hundred pages to get used to! - Characters: I tend to like "good" good guys and "bad" bad guys, so when I read other reviews that criticize Brennan for not being "complex enough," I dont give those much weight. Evil is very one-dimensional. The baddest villains are the ones that really have no complexity: they're just bad to be bad. And thank god, not every protagonist is Holden Caulfield. I found the main protagonist - Henry Atherton - very enjoyable and relatable, if not a little dorky. He reminds me of a modern Taran from (IMO the greatest childrens fantasy EVER) <i>The Chronicles of Prydain</i> in that he's sweet but maybe a tad dorky (girls, we all know boys like this!). I can certainly deal with the "lovable loser" character type. **I feel like I do need to address this aspect of the story, as everybody does** - Umm okay I found the series in the YA section, and to me that's a very appropriate place. This is a very action-packed series, and yeah there's conflict: and not wishy-washy glossed over conflict, either. These are bad guys who do bad things. I wouldn't use the word "pervasive," but there certainly are violent aspects of the story. To me, I didnt find the violence out of place or even unnaturally heightened...it had a purpose: to be contrasted with good. To make the reader think: "Wow, these dudes need to be stopped". I wouldnt recommend this series for anyone under middle-school (with the exception of the above-average-intelligence 5th grader). CON: - Really, there's only one definite negative I have to gripe about: This is FANTASY--I don't want to read about melodramatic, "Eastender-like" family drama! It is necessary to a point to set up the emotional characterization of Henry: we need to see a bit of his background in order to understand and relate to his situation. What we <i>dont</i> need is over-the-top melodrama, which IMO is what we are given. It seems as though it's not good enough for Brennan to present a relatively normal family problem: he has to write a rather specific and uncommon family situation that to me was just put in to be a "shock factor." There's no development, no substance, because that's not the point. So why bother? Anyway, that's my beef.Overall? Excellent. I will proceed to the next book in the series promptly! This is not exactly a well-known series in the US, though a few of my English friends have read the books and quite enjoyed them. If you are reading this review, give the FAERIE WARS CHRONICLES a try!