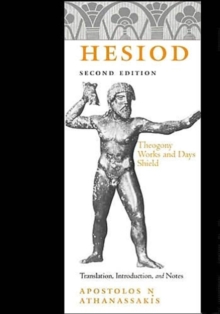 Hesiod : Theogony, Works and Days, Shield
Paperback / softback
Description
Hesiod belongs to the transitional period in Greek civilization between the oral tradition and the introduction of a written alphabet.
His two major surviving works, the Theogony and the Works and Days, address the divine and the mundane, respectively.
The Theogony traces the origins of the Greek gods and recounts the events surrounding the crowning of Zeus as their king.
A manual of moral instruction in verse, the Works and Days was addressed to farmers and peasants. Introducing his celebrated translations of these two poems and of the Shield, a very ancient poem of disputed authorship, Apostolos Athanassakis positions Hesiod simultaneously as a philosopher-poet, a bard with deep roots in the culture of his native Boeotia, and the heir to a long tradition of Hellenic poetry.
For this eagerly anticipated revised edition, Athanassakis has provided an expanded introduction on Hesiod and his work, subtly amended his faithful translations, significantly augmented the notes and index, and updated the bibliography.
Already a classic, Hesiod: Theogony, Works and Days, Shield is now more valuable than ever for students of Greek mythology and literature.
Information
Format:Paperback / softback
Pages:192 pages, 1 Maps
Publisher:Johns Hopkins University Press
Publication Date:02/08/2004
Category:
ISBN:9780801879845
Other Formats
Paperback / softback from £10.55
EPUB from £12.95
Hardback from £51.55