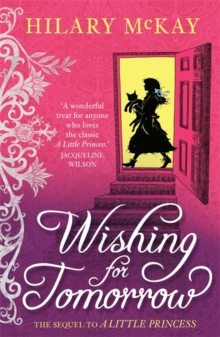 Wishing for tomorrow : The Sequel to a Little Princess
Paperback
Description
Hilary McKay revisits Miss Minchin's Select Seminary for Young Ladies after the events of A Little Princess and Sara Crewe's happily ever after.
But Sara is much missed - and most acutely by best friend Ermengarde, who laments that 'nothing is the same as it was before'. But life must go on at Miss Minchin's as new friendships are made, rivalries continued, lessons learned and, most importantly, fairytale endings are had.
Information
Format: Paperback
Pages: 320 pages, b/w throughout
Publisher: Hachette Children's Group
Publication Date: 01/03/2010
Category: General
ISBN: 9780340956540
Free Home Delivery
on all orders
Pick up orders
from local bookshops
Reviews
Showing 1 - 1 of 1 reviews.
Review by 2chances
16/06/2015
Want to hear a story? I was in a very large bookstore in London with my daughter when I found a single copy of this book. Hilary McKay! one of my very favorite children's writers! writing a sequel to what may possibly be my all-time favorite children's book! I scanned the book carefully to find the price (not that there was any question - I was totally buying the book), but no price was visible. So I took it to the cashier, who also checked it carefully until she saw it: PROOF COPY. NOT FOR SALE. "Not for sale?" I wailed (in a quietly professional manner). "But why was it out on the shelves?" The clerk looked furtively to her right, then to her left, then shoved the book at me. "Take it," she hissed. "Just don't let anyone see it." And like a practiced criminal, i whisked the book under my raincoat, grabbed my daughter and sidled out of the store.("Mumsy?" said my daughter. "Are we stealing something?")So everything in the garden was lovely, but I am still not totally sure about this book. I loved how McKay brought Lottie to life - spoiled, whiny Lottie of The Little Princess is wildly inventive and impishly funny in Wishing for Tomorrow, and I would be sorry to have missed her. But the story's center is Ermengarde and her sense of betrayal (because Sara never told her about the magical transformation of the attic), and I had a hard time hooking up with that. Ermengarde is less stupid in this book (how could she be anything BUT less stupid) but also less tender and kind. However, the others girls are fleshed out in surprising ways that (also surprisingly) do not alter their initial characterizations, but simply expand them. And Miss Minchin's back story is both interesting and engaging, At first I was annoyed with McKay for seeming to attempt her rehabilitation (man, I hated Miss Minchin; she and I can never be friends), but that whole part of the plot grew on me. And I am sending a little Valentine to McKay for addressing the subjection of women in Victorian times in this most lighthearted novel. That is a real hat trick, I'm telling you.