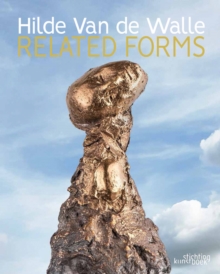 Description
Hilde Van de Walle (1957) is a multi-disciplinary artist.
In a period of 30 years she created a vast and highly appreciated oeuvre consisting of graphic art, paintings, ceramics and monumental bronzes.
She often explores the mystery behind the human facade.
As an artist she wants to achieve maximal expression with a minimal number of visual clues.
Her images are actions frozen in time. It is the task of the spectator to fill in the preceding action or imagine the continuation of the movement.
Her imagery is wilful; the artist dislocates normal anatomy and forces it into a new shape.
Parts of the body are deliberately eliminated to come to the purest expression.
The subdued charisma of the figures stimulates a dialogue with the environment and the spectator.
The residual space between the images is no blank space, but acts as a sound box that amplifies the expression.
Capturing the intangible in an image remains Hilde's passionate ambition.
Text in English and Dutch.
Information
Format: Hardback
Pages: 112 pages, 75 colour
Publisher: Stichting Kunstboek BVBA
Publication Date: 30/05/2018
Category: Art & design styles: from c 1960
ISBN: 9789058565891