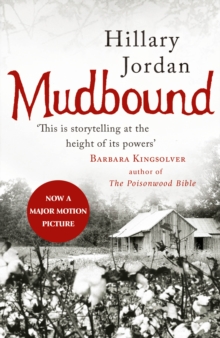 Description
NOW A MAJOR MOTION PICTURE STARRING CAREY MULLIGAN, GARRETT HEDLUND & MARY J.
BLIGE. When Henry McAllan moves his city-bred wife, Laura, to a cotton farm in the Mississippi Delta in 1946, she finds herself in a place both foreign and frightening.
Henry's love of rural life is not shared by Laura, who struggles to raise their two young children in an isolated shotgun shack under the eye of her hateful, racist father-in-law.
When it rains, the waters rise up and swallow the bridge to town, stranding the family in a sea of mud.
As the Second World War shudders to an end, two young men return from Europe to help work the farm.
Jamie McAllan is everything his older brother Henry is not and is sensitive to Laura's plight, but also haunted by his memories of combat.
Ronsel Jackson, eldest son of the black sharecroppers who live on the farm, comes home from war with the shine of a hero, only to face far more dangerous battles against the ingrained bigotry of his own countrymen.
These two unlikely friends become players in a tragedy on the grandest scale.
Information
Format: Paperback
Pages: 336 pages
Publisher: Cornerstone
Publication Date: 01/10/2008
ISBN: 9780099524687
Other Formats
Paperback from £7.65
EPUB from £3.99
eAudiobook MP3 from £35.25
Free Home Delivery
on all orders
Pick up orders
from local bookshops
Reviews
Showing 1 - 4 of 4 reviews.
Review by eleanor_eader
16/06/2015
The Mississippi Delta, around the time of the Second World War. Laura is brought to her proud husband's newly purchased farm, where she struggles to fit into her new surroundings; farmland at the mercy of the weather and the workers. The neighbouring black sharetenants deal with the inherent racism of men brought up to easy violence, violence which spills into Laura's world with the arrival of Jamie, Henry's younger brother, and Ronsel, the eldest son of their tenants, both back from the war.Ronsel is returning not to a hero's welcome, but to a township full of people anxious to put him in his place – some to fulfil their own sense of propriety, some out of hatred, others for Ronsel's 'own good health'. The racism in this novel swings from entrenched and frustrating to harrowing and awful but while it is, in a sense, the theme of the book, it is Laura – the young white mother of two small girls – on whom the focus of the book falls, her relationships with Henry, the husband obsessed with the soil he owns, with Pappy, her sly and bitter father-in-law, with Florence, Ronsel's mother, who reluctantly comes to work for her and with Jamie, whose charm and warmth – now a shell inside which he suffers the resulting guilt of piloting a bomber during the war – makes Laura respond in ways she cannot even wish to control The format of 'Mudbound' can seem a little clumsy at times; switching from one character's POV to another necessitates some overlap on events, and sometimes this meshing is a little awkward; where it matters, though, Jordan picks up the threads and makes them work for her rather than against; and this is really the only flaw in this first novel. Overall, it is engrossing. Each character has been drawn with a flair for finding sympathy in the reader – as Laura herself reminds us, each story begins with another and another, each person's attitude and reactions in some way built by others before them. The story is mesmerising and tense and I will gladly read Jordan's next book in the hope of more strong storytelling.
Review by wendyrey
16/06/2015
A short novel set somewhere in the southern USA during and after the second world war. A family stress saga that ends in a murder. The plot is full of tension and the mystery element is maintained to the end . Main motifs are racial prejudice, marital tension and bullying elders.Well worth reading.
Review by Mumineurope
16/06/2015
Laura, Henry, Jamie and Ronsel. Racial tension in Mississipi
Review by sbenne3
27/08/2015
What a delightful find! This book was very well written and an interesting take on life in Mississippi in the 40s. The author managed to weave together several characters (many of whom could have been the subject of an entire book) into one story in a very compelling way. This was a sad story, realistic and engaging. I would recommend.