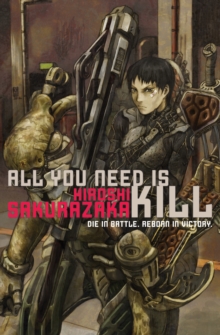 All You Need Is Kill
Paperback
Description
When the alien Gitai invade, Keiji Kiriya is just one of many raw recruits shoved into a suit of battle armour and sent out to kill.
Keiji dies on the battlefield, only to find himself reborn each morning to fight and die again and again.
On the 158th iteration though, he sees something different, something out of place: the female soldier known as the Bitch of War.
Is the Bitch the key to Keiji's escape, or to his final death?
Information
Format: Paperback
Pages: 230 pages
Publisher: Viz Media, Subs. of Shogakukan Inc
Publication Date: 21/07/2009
Category: Science fiction
ISBN: 9781421527611
Other Formats
Paperback from £7.59
eAudiobook MP3 from £16.76
Free Home Delivery
on all orders
Pick up orders
from local bookshops
Reviews
Showing 1 - 5 of 12 reviews.
Previous | Next
Review by JasonBrownPDX
16/06/2015
Released as part of VIZ-Media's recent fiction line, Haikasoru, All you need is Kill was a very fast but great read. Though technically considered a light novel, you do not find any of the watered down elements a LN would normally bear. The characters are clear and enjoyable. the story is descriptive and vibrant. The novel could very easily be triple the length, but it would not make it any better. Instead, you would risk watering down its power, like small punches to your gut turning to love taps.Though originally written in Japanese (2004), it was recently translated by Alex Smith and pushed out to the English market.if you read AYNIK, you will definitely be reminded of Robotech, Groundhogs day, and general anime/manga. This book is much more than any of those things however, so you will see no further references to them.FNORDinc's overview-The planet earth is in the midst of a ground war. We fight alien machines sent to our planet to reform the atmosphere and land to the needs of their creators. Their blood is sand, electrically charged and poisonous to all earth life. Nanites mixed about inside them make them mobile bio-hazards, eating dirt and emitting toxic waste. These machines, called Mimics (not to be confused with giant mutant cockroaches) fire 1600 meter per second spikes into their enemies and destroy all they come in contact with. There is more to them, but i will let those who want more info read the book. These secrets are not mine to disclose.Protagonist Keiji Kiyira is prepping for his first battle. As a virgin in the bed of war, he is clumsy and nervous. he knows his training but has no idea what he is REALLY doing. This becomes evident two pages into the book as he is bleeding out. Torn nearly in two by enemy fire, he is in shock. Enter Rita, the "Full Metal Bitch". Clad in red armor, wielding an axe, she is a vision of hope and absolute bad-assery. Sh is like the battlefield messiah, brute force putting the enemy into an the mood to absolve their sins through death. Her just being near Keiji is enough to get him back on his feet fighting. with out these two character, this story would be a waste of paper, detailing our own demise.Everything it stops an instant after he meets Rita. Keiji wakes up 30 hours earlier, in his bunk at the barracks. He is stuck in a loop, repeating the same battle every day. Talk about the perfect way to lose your mind. perpetually fighting a never ending battle, honing your skills and carrying them forward into the next day.I highly suggest this book.--xpost RawBlurb.com
Review by knownever
16/06/2015
The idea is very interesting, but the execution of the story's repetitive structure drags.The protaganist, Keiji Kiyira, is a Japanese soldier barely out of his teens who enlisted after he and his girlfriend break up. During his first battle, Keiji is killed by the starfish-like alien race du jour (Highly adaptable alien microbes were sent throughout the universe to make whatever planets they found habitable for an unknown alien species. On earth, these microbes began producing chemicals that turned the sea into a sludge toxic to humans but amenable to their creators. The microbes also mutated some starfish they encountered in order to eradicate the planet's most problematic native species: humans). However, rather than staying dead, Keiji awakens earlier that morning, and most of the book is spent following him as he replays the same day over and over trying to figure why. Along the way he hones his warrior skills in an attempt to prevent his death in battle and hopefully escape the time loop. Some stuff happens in the second half of the book to do with a female US soldier called the Full Metal Bitch and time traveling aliens, but explaining it would be A) difficult and confusing and B) totally spoilerish. Also, everyone has the typical space marine mecha suit that has infected military sci fi lately.There are a lot of interesting ideas here from the alien microbe thing to the time traveling alien messages, but there are some major issues with clarity and characterization. I think that some of it can be attributed to this being a bad translation.Also, I can't believe this is being made into a movie starring Tom Cruise! WHAT?!
Review by lgildersleeve
16/06/2015
While an interesting premise, the ending felt abrupt, and the pseudo-science explanation lacked rationale.
Review by TheCrow2
16/06/2015
A fast-paced, action-packed and sometimes thought-provoking novel about a soldier caught in a time loop. What would you do if you had to fight the same battle every day?
Review by areadingmachine
16/06/2015
I bet this is going to be about seventy times better than that the Tom Cruise movie that is coming out.