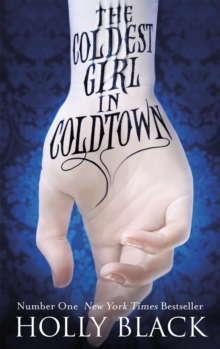 The Coldest Girl in Coldtown
Paperback
Description
Coldtown is dangerous. A prison for the damned and those who party with them.
The stunning new YA novel from the bestselling author of The Spiderwick Chronicles.
TRUE BLOOD for teens! Tana lives in a world where walled cities called Coldtowns exist.
In them, quarantined monsters and humans mingle in a decadently bloody mix of predator and prey.
It's an eternal party, shown on TV 24 hours a day - gorgeous, glamorous, deadly! Because, once you pass through Coldtown's gates, you can never leave...A wholly original story of rage and revenge, love and loathing from bestselling author, Holly Black.
Fans of TRUE BLOOD will love this dark and sexy tale.
Information
Format: Paperback
Pages: 432 pages
Publisher: Hachette Children's Group
Publication Date: 06/02/2014
Category: Fantasy
ISBN: 9781780621715
Free Home Delivery
on all orders
Pick up orders
from local bookshops
Reviews
Showing 1 - 2 of 2 reviews.
Review by HunyBadger
16/06/2015
Aside from a few concepts that felt lifted from Anne Rice, this was a refreshing vampire fiction. I enjoyed a main female character who was uncertain of herself yet still used logic (not just instinct) and empathy to make decisions. I liked that we occasionally got glimpses of what others thought of her, not only her internal story. It made you realize that what you tell yourself, isn't always what others see about you.I would have liked more character development of the side characters. They seemed interesting and I found myself wanting to know more of their stories as I learned Tana's. Most often in vampire stories, I never get the full terror that vampires are supposed to generate. This was a unique book for me in that I actually felt Tana's fear and anxiety being in a world that was beyond control. The ending was subtle and that too was refreshing. Left me wanting more and looking forward to (maybe??) a series? Let's hope.
Review by TPauSilver
27/08/2015
Tana lives in a world were Vampires are well known and quarantined in coldtowns. She wakes up one morning after a party to find everyone dead but her ex who is infected. And a vampire who needs some saving. Her life will never be the same. I liked Tana as a character and fond the book in general pleasureable with a lot of twists and intriegue to keep you reading. I did find some of the plot twists a little forced. which is why we're at a 4, not a 5, but overall this is an interesting take on the vampire story.