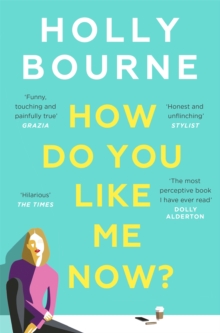 How Do You Like Me Now? : the hilarious and searingly honest novel everyone is talking about
Paperback / softback
Description
'The most perceptive book I have ever read about the female interior' DOLLY ALDERTON'Identifiable, heart-breaking and wickedly funny.
I'd say this is one of my favourite books of the year' GIOVANNA FLETCHER'Bourne holds a mirror up to contemporary aspiration' SUNDAY TIMES*****Everyone wants to be Tori Bailey. A straight-talking, bestselling author, she's inspired millions of women around the world with her self-help memoir and uplifting posts online.
What's more, her perfect relationship with her long-term boyfriend is the envy of all their friends. But Tori isn't being honest. While everyone around her is getting engaged and having babies, Tori's boyfriend will barely look at her, let alone talk about marriage. And when her best friend Dee unexpectedly falls in love, suddenly Tori's in danger of being left behind. Tori's built a career out of telling women how to live their best life, but is she brave enough to admit it's not what she wants?*****The debut adult novel by bestselling author Holly Bourne is a blisteringly funny, honest and moving exploration of love, friendship and navigating the emotional rollercoaster of your thirties. Everyone is raving about this book!Brutally honest, appallingly funny and very moving - so accurate on the female interior, and the loneliness life in the public gaze.
I want to read everything Holly Bourne has written now' ROSIE WALSH'It'll resonate with anyone trying to convince themselves that sticking it out is better than being alone.' EMERALD STREET'Relatable for any woman navigating emotional time bombs' RED'It speaks so many truths about being a woman in your thirties; friendships, love and what a fickle beast social media can be. ' CLEMMIE HOOPER'Hilarious and painfully true' GRAZIA'Sure to resonate with anyone navigating the emotional minefield of their thirties' RED ONLINE'Funny, real and heartbreaking.
I haven't been this obsessed with a book in years.' LUCY VINE'Injected with such reality it can't help but be hilarious' TIMES'A very funny novel that lives up to its hype' THE SUNDAY TELEGRAPH
Information
Format: Paperback / softback
Pages: 384 pages
Publisher: Hodder & Stoughton
Publication Date: 28/05/2019
ISBN: 9781473667761