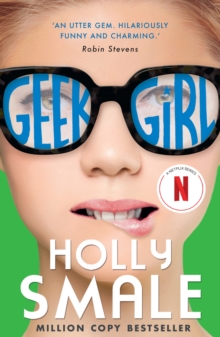 Geek Girl
Paperback
Part of the Geek Girl series
Description
"My name is Harriet Manners, and I am a geek." Harriet Manners knows that a cat has 32 muscles in each ear, a "jiffy" lasts 1/100th of a second, and the average person laughs 15 times per day.
She knows that bats always turn left when exiting a cave and that peanuts are one of the ingredients of dynamite. But she doesn't know why nobody at school seems to like her. So when Harriet is spotted by a top model agent, she grabs the chance to reinvent herself.
Even if it means stealing her best friend's dream, incurring the wrath of her arch enemy Alexa, and repeatedly humiliating herself in front of impossibly handsome model Nick.
Even if it means lying to the people she loves. Veering from one couture disaster to the next with the help of her overly enthusiastic father and her uber-geeky stalker, Toby, Harriet begins to realise that the world of fashion doesn't seem to like her any more than the real world did. As her old life starts to fall apart, will Harriet be able to transform herself before she ruins everything? The award-winning debut by bestselling author Holly Smale.
Information
Format: Paperback
Pages: 356 pages
Publisher: HarperCollins Publishers
Publication Date: 01/02/2013
Category: Humorous
ISBN: 9780007489442
Other Formats
Paperback from £15.75
EPUB from £2.49
eAudiobook MP3 from £9.59
from £17.19
Free Home Delivery
on all orders
Pick up orders
from local bookshops
Reviews
Showing 1 - 5 of 6 reviews.
Previous | Next
Review by kitkat1242
16/06/2015
"My name is Harriet Manners, and I am a geek"Harriet Manners is your typical definition of a geek, and she knows it. Even the people around her know it, and the class bully Alexa won't ever let her forget it. Nat is her best friend, and her dream is to be a model, and when on a trip with people from school, Nat spots model agents, and runs off to try to get noticed. Unfortunately for Harriet, she causes a commotion by making a mess of some stalls, and gets pulled away by a guy called Wilbur, who just happens to be part of a talent agency for modelling. As he takes a couple of pictures of Harriet, she runs and hides under a table, which is a place of safety according to her. This is where she meets Nick AKA "Lion boy". Completely in shock that he is hiding under the table before her, he offers her some gum, and her conversation starter just happens to be a random fact about chewing gum being banned in Singapore. Nat then becomes green-eyed with jealousy when she sees the pictures Wilbur took. Harriet discusses the idea of modelling with her father and his other half Annabel. Annabel doesn't like the idea for her to model as she thinks Harriet is too young and needs to study. Burdened with the idea that she has to lie to protect people's feelings, she continues in her journey, along with her father, to try to make herself a better person.This is a story about lying, dealing with the profession of modeling and being true to who you are.This is the first book I have read from Holly Smale, and I thoroughly enjoyed it.I love Harriet's character, and how when thrown in a difficult or awkward situation, she will spit out a random fact, and the people just stare at her stunned. I find Harriet's father so amusing, as well as Toby, the boy geek in her class. Wilbur is a class character. Some of the nicknames he calls Harriet are so hilarious and random. I adore all the characters in this book. They are all so lively and happy.I couldn't see any flaws with this story. I enjoyed every moment, and I thought the ending was rather sweet. I almost feel like there should be a sequel to this...I like the cover design of the book. The equation doodles on the girl's head are quite funky.This is one of my favourite extracts from the book:"It's bur not iam," Wilbur points out, sighing. "The editor of Elle said Harriet was fresh. Harper's said she was delicious. Vogue thought she had unexpected warmth.""My daughter's not a loaf of bread," Dad points out in surprise.I gave this book five stars because I really enjoyed it, the characters were interesting, and you can't help but smile as you read along. It really made me laugh so much.I recommend this book to anyone because I believe others will enjoy it as well as I did. In general, it is a really good teen novel.Add it to your "to read" list as I give it two thumbs up.Happy reading =)
Review by lisagibson
16/06/2015
Geek Girl was a great read! Harriet Manners is quirky, fun and the kind of girl you can relate to. She knows all these interesting facts that she can't help but share. I really loved the characters in this book. Some of them aren't always who you think they're going to be and I found that so refreshing. I'm giving Geek Girl 4 air kisses, so as not to muss the makeup! ;)
Review by JRlibrary
16/06/2015
Normally this isn't my type of book AT ALL, but I loved it. I found myself laughing out loud at some of the descriptions and reading passages to whomever happened to be nearby! The similes and metaphors are fresh and powerful and the humor is believable. I think Smale's modeling experience shines through in her writing. Definitely an author I'm going to follow and I'll be putting a couple copies of this title on our library shelves.
Review by charlottejones952
16/06/2015
This is a book that, for a long time, I have judged by the cover. I have heard amazing things about it though and finally decided to bite the bullet the other day, and I purchased it from WHSmith. Having now read this book, I think that the cover doesn't really show the story very well and I think that although this type of cover may appeal to younger readers, I don't think it quite meets the standard set by the story itself.<br/><br/>'Geek Girl' is a story of identity mixed with humour and a fun storyline. Aimed at ages 11 and upwards, the writing style is definitely geared towards a younger audience, but at 21, I thoroughly enjoyed this book and found it to be a light-hearted and enjoyable read.<br/><br/>The plot was quite straight-forward – bullied "geek" Harriet Manners wants to change in order to become liked. Cue modelling opportunity of a lifetime, and obviously fun and life-changing plot ensues, leading Harriet to discover who she is. The "ugly duckling turning into a swan" trope is one that has been used a lot in media for younger audiences, but I think in this case it really works well. Although I found parts of the middle of the book a bit slow, I think that this is mostly because of my own lack of interest in fashion, rather than the book itself.<br/><br/>The writing style was effortless to read and was something that I would definitely have enjoyed when I was younger. The extremely short chapters with mini cliffhanger endings made you want to just keep reading, making this a really quick read despite it being 378 pages, which is quite lengthy for this type of book, though it doesn't feel long at all whilst reading it.<br/><br/>I think that this book would be really inspirational to young girls as it takes the importance of physical appearance and concentrates on personality by the end. Harriet started off as quite a naive character and was weak but I think that she really grew as a young woman.<br/><br/>Overall, this is a light, fun 'summer' read and I highly recommend it!
Review by elliepotten
16/06/2015
Awww, this was so much fun. I took it to Croatia with me over the summer and devoured it over a couple of long hot sunlounger days. It's perfect poolside reading, like a cross between <i>The Princess Diaries</i> and <i>The Devil Wears Prada</i>. It's about a fashion-clueless geek called Harriet who is accidentally 'spotted' during a trip to The Clothes Show live with her best friend Nat, who has always dreamed of being a model. The novel's about how she takes this opportunity to do something new, finds a way to reconcile it with her own values, and deals with the fallout with her friends and family. It's smart, easy to read and very cute - bring on book 2!