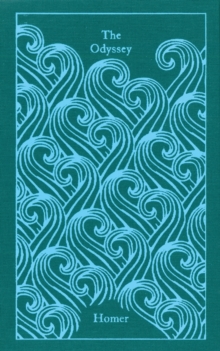 Description
Part of Penguin's beautiful hardback Clothbound Classics series, designed by the award-winning Coralie Bickford-Smith, these delectable and collectible editions are bound in high-quality colourful, tactile cloth with foil stamped into the design.
The epic tale of Odysseus and his ten-year journey home after the Trojan War forms one of the earliest and greatest works of Western literature.
Confronted by natural and supernatural threats - shipwrecks, battles, monsters and the implacable enmity of the sea-god Poseidon - Odysseus must use his wit and native cunning if he is to reach his homeland safely and overcome the obstacles that, even there, await him.
Information
Format: Hardback
Pages: 416 pages
Publisher: Penguin Books Ltd
Publication Date: 01/10/2009
Category: Poetry by individual poets
ISBN: 9780141192444
Other Formats
Paperback from £2.50
Hardback from £5.09
CD-Audio from £26.65
eAudiobook MP3 from £9.79
Free Home Delivery
on all orders
Pick up orders
from local bookshops
Reviews
Showing 1 - 2 of 2 reviews.
Review by bookworm12
16/06/2015
After the ten-year Trojan War ends the warriors return to their home lands. Odysseus' journey is longer than most because he has angered Poseidon. He runs into one obstacle after another as he fights to return to his wife and son. He fights a Cyclops, travels to the land of the dead, narrowly misses the call of the sirens and spends years trapped on Calypso's island. When he finally returns to Ithaca his home is filled with suitors attempting to woo his wife. I first read The Odyssey in high school, rereading it a decade later was a very different experience. This time I paid much more attention to Penelope's story. She is such an incredible character. Her loyalty and patience is remarkable. Even though her husband has been gone for 20 years she still holds out that he is alive and will return to her. It made me wonder how long someone would wait nowadays. Obviously there were fewer communication options back then, but still a couple decades is a long time to hang on to hope. Penelope is surrounded by suitors and keeps them at bay by telling them she'll consider them once she finishes what she's weaving. She weaves all day and then at night she undoes everything she's woven. Margaret Atwood wrote an interesting novella about her story, The Penelopiad: The Myth of Penelope and Odysseus.I enjoyed his son Telemachus' journey. When his father leaves he is only a baby, but he's grown to become a man in Odysseus' absence and he longs to find his father. He isn't sure if he should search for his father or stay and protect his mother, it's a difficult decision. For me, it's important that Odysseus is not a god. He is just a mortal man. So many of the stories in Greek literature are about the gods or demigods. Odysseus is neither, he occasionally has help from the gods, like Athena, at other times he is persecuted by the gods, especially Poseidon, but he has none of their powers. He must rely on his intelligence and cunning to outsmart his captors. BOTTOM LINE: An absolute must for classic lovers. It's also one of the most accessible pieces of Greek literature and a gateway drug into that world. p.s. This time around I listened to the Robert Fagles translation on audio and it was read by the magnificent Ian McKellen. I would highly recommend it!  
Review by unclebob53703
16/06/2015
An excellent prose translation, the book reads like a ripping good novel. Read it for a class in college and loved it. Just got a very nice hardcover edition to replace that paperback, which was literally falling apart.
Also in the Penguin Clothbound Classics series | View all