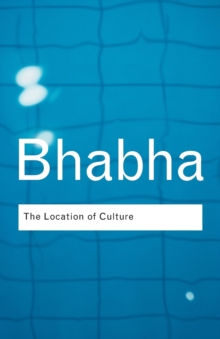 The Location of Culture
Paperback
Description
Rethinking questions of identity, social agency and national affiliation, Bhabha provides a working, if controversial, theory of cultural hybridity - one that goes far beyond previous attempts by others.
In The Location of Culture, he uses concepts such as mimicry, interstice, hybridity, and liminality to argue that cultural production is always most productive where it is most ambivalent.
Speaking in a voice that combines intellectual ease with the belief that theory itself can contribute to practical political change, Bhabha has become one of the leading post-colonial theorists of this era.
Information
Format: Paperback
Pages: 440 pages
Publisher: Taylor & Francis Ltd
Publication Date: 01/09/2004
Category: Literary studies: general
ISBN: 9780415336390
Free Home Delivery
on all orders
Pick up orders
from local bookshops
Reviews
Showing 1 - 1 of 1 reviews.
Review by MeditationesMartini
16/06/2015
Oh, Homi Bhabha, you break my heart. Maybe it was your cuddly name; maybe it was your downness with Edward Said and Terry Eagleton and suchlike members of that most exclusive and almost oxymoronic fraternity, awesome critical theorists; Maybe just that I, stereotypically, automatically, Orientalistically, assumed an post-colonial, post-colonized writer guy like yourself would care more about accessibility and effecting change than plumbing the murky depths up theory's collective ass. When you started out with an introduction full of pithy pertinent personalisms and a showtunez quote that was downright psychedelic in context, mind-expanding, I knew joy. But then it's just islands from there on in. Occasional moment where you kick up your heels; more often, solid quotes ganked from unimpeachable sources, a skeleton of argument on which you hang your linguistic horror. For every little bit of Conrad or Fanon or your Indian poet friend (is every Indian poet your friend, or only all the ones worth quoting?), you set it in a grindery of knives and iron pestles and destroy it, bring it to heel in the service of that ever-more-contingent and tangential meaning/lessness that constitutes the critical sublime.There are really worthy ideas in here, that need saying and repeating and reflecting on. Culture arising from the interstices, precursing Zizek kinda; the "Third Space"; the narrativeiation and performative nature of national and cultural identities; the exploded galaxy of post-colonial perspectives and their oppositionality to that other great hybridizing maw, globalism (the "bad multiculturalism"); others. But when you're peddling a book that's winning prizes for bad writing (specifically for the sentence "If, for a while, the ruse of desire is calculable for the uses of discipline soon the repetition of guilt, justification, pseudo-scientific theories, superstition, spurious authorities, and classifications can be seen as the desperate effort to "normalize" formally the disturbance of a discourse of splitting that violates the rational, enlightened claims of its enunciatory modality"), dude, aren't you doing the cause, be it of understanding or mere social justice, a lot more harm than good?