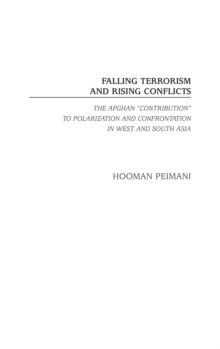 Falling Terrorism and Rising Conflicts : The Afghan Contribution to Polarization and Confrontation in West and South Asia
Hardback
Description
The Taliban's fall and the massive American military and political presence in South and West Asia have created grounds for a polarization into two camps: India, Iran and Russia, to which China is affiliated, and the United States and Pakistan.
In Peimani's analysis, their incompatible interests will push them towards confrontations with regional and international implications. Contrary to expectations, the fall of the Taliban did not bring peace and stability to Afghanistan.
The Afghan interim government is simply too weak to act as a central government; this results in the re-emergence of warlords, turf wars, and the expansion of drug trafficking.
This unstable situation may well result in the emergence of Taliban-like groups.
Added to this, the threat of the spillover of instability from Afghanistan into neighboring regions, on the one hand, and the rapid expansion of American military and political power in Central Asia, the Caucasus, the Persian Gulf, Afghanistan, and Pakistan, on the other, have created fear among the regional powers. The stated indefinite stay of American forces well after the end of the anti-terrorist war in Afghanistan has worsened that fear as it reflected the American government's plan to pursue certain strategic interests unrelated to that war.
Consequently, as Peimani shows, the regional anti-terrorist coalition has disintegrated in the absence of a common objective to help focus the region.
Fear of the long-term American objectives and those of its Pakistani ally in South and West Asia incompatible with those of the regional powers have facilitated the creation of two camps consisting of Iran, India, and Russia, to which China is affiliated, and Pakistan and the United States.
Respectively, these implicit and explicit camps are likely to collide over their regional interests especially in the strategically important energy-producing Persian Gulf and Caspian Sea regions.
Information
Format: Hardback
Pages: 160 pages
Publisher: ABC-CLIO
Publication Date: 30/09/2003
Category: International relations
ISBN: 9780275978570
Free Home Delivery
on all orders
Pick up orders
from local bookshops