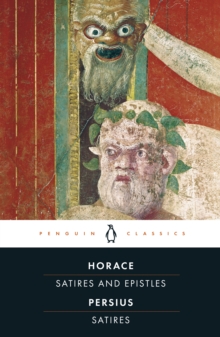 The Satires of Horace and Persius
Paperback
Description
The Satires of Horace (65-8 BC), written in the troubled decade ending with the establishment of Augustus' regime, provide an amusing treatment of men's perennial enslavement to money, power, glory and sex.
Epistles I, addressed to the poet's friends, deals with the problem of achieving contentment amid the complexities of urban life, while Epistles II and the Ars Poetica discuss Latin poetry - its history and social functions, and the craft required for its success.
Both works have had a powerful influence on later Western literature, inspiring poets from Ben Jonson and Alexander Pope to W.
H. Auden and Robert Frost. The Satires of Persius (AD 34-62) are highly idiosyncratic, containing a courageous attack on the poetry and morals of his wealthy contemporaries - even the ruling emperor, Nero.
Free Home Delivery
on all orders
Pick up orders
from local bookshops
Reviews
Showing 1 - 1 of 1 reviews.
Review by stillatim
16/06/2015
Although less biting than Juvenal, both Horace and Persius are much easier reading- the historical particulars aren't as important, the narratives are a bit more gripping, and the poems are more varied. Rudd's translation is clear and strikes a nice balance (very Horatian, that) between keeping some reminder that the poem isn't just prose chopped into shorter lines and accuracy. It's nice to read pre-Whitmanians, to remind oneself that the masses are often wrong: <br/><br/>"the people.../ often confer/ office on worthless candidates and are stupidly enthralled by fame,/ gaping entranced at inscriptions and busts. So what is the right/ course for us who live in a different world from the masses?" (I.6 15ff). <br/><br/>while also noting, in an Epistle, that<br/><br/>"We are the mass, whose role is merely consuming produce," Ep I.2 26. <br/><br/>Horace's second book isn't as much fun as his first, but it's fun to read a satire on ancient foodies and realize that it's okay to hate people who insist on drinking 90 minute IPA beers that taste more like steel than any potable food or beverage. His Epistles are even milder, but continue on the same themes: country vs city, the nature of the good life, reflections on the art of poetry and so on. <br/><br/>The real gems in this book all belong to Persius, particularly satire 5: are you free? You think so, but only because you fail to recognize that a person can be in thrall to many things other than a direct and obvious cane-wielding master. And you're in thrall to things without number. Persius is just as convincing as Horace when setting out a positive ideal, and far more convincing when he's scouring others for failing to live up to it.