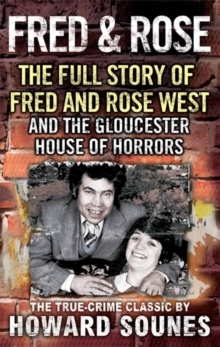 Fred and Rose : The Full Story of Fred and Rose West and the Gloucester House of Horrors
Paperback
Description
The true crime bestseller about Fred and Rose West a couple virtually unique in British criminal history - who loved and killed together as husband and wife. During their long relationship the Wests murdered a series of young women, burying the remains of nine victims under their home at 25 Cromwell Street, Gloucester, including those of their teenage daughter, Heather.
What was left of Fred West's eight-year-old stepdaughter was dug up from under the Wests' previous Gloucester home; his first wife and nanny were buried in open country outside the city.
Several victims had been decapitated and dismembered, their remains showing signs of sexual torture.
These twelve are just the ones the police found when the Wests were arrested in 1994.
There may be more whose bones have not been located. Howard Sounes broke the first major story about the Wests as a journalist, and covered the murder trial of Rosemary West, before writing this , the classic book about the case.
Beginning with Fred's and Rose's bizarre childhoods, Sounes charts their lives and crimes in forensic detail, creating a fascinating and truly frightening account of a marriage soaked in blood.
Information
Format: Paperback
Pages: 384 pages, Section: 24, B&W
Publisher: Little, Brown Book Group
Publication Date: 07/12/1995
Category: True crime
ISBN: 9780751513226
Free Home Delivery
on all orders
Pick up orders
from local bookshops
Reviews
Showing 1 - 2 of 2 reviews.
Review by Fluffyblue
16/06/2015
I started reading this after watching the first part of "Appropriate Adult" on TV the other week. I found it easy to read, and it went into quite a lot of detail about both Fred and Rose's family life and attempted to explain how they both evolved to become sadistic murderers. It was an interesting read which was, at times, quite harrowing. The victims all suffered immensely and it was therefore not pleasant reading.
Review by BellaFoxx
16/06/2015
Three things stand out to me in this book, (1) the utter depravity of Fred and Rose West; (2) the horrible failure of the Gloucestershire Social Services; and (3) the amazing tenacity of one Detective Constable Hazel Norma Savage, without her involvement, the bodies might never have been found.<br/><br/>Fred and Rose were married for about 25 years, but the killing had started before, both had killed on their own, and then together, they knew each others secrets and covered up for each other. In the end, Fred tried to protect Rose, who when she felt he had failed her turned from him. He took his life and there are now questions that will never be answered. Such as, why were finger and toe bones missing, are there more victims and if so where are they buried? Rose maintains her innocence. These are things we may never find out.<br/><br/>Howard Sounes is a journalist, he covered the story when it broke and the trial of Rosemary West, much of the information in this book is from that. There is also extensive background information and he includes speculation on what caused Fred and Rose to become such twisted individuals. He delivers accounts of what probably happened to the victims, based on the condition of the bodies and accounts from other victims that survived. One of the victims that lived is Fred and Rose's daughters. Two of the victims that were killed were also their daughters.<br/><br/>The facts are laid out explicitly but not sensationally making this an informative, well written, interesting account. I recommend this book.