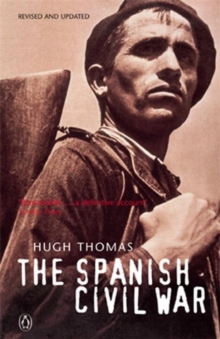 The Spanish Civil War
Paperback
Description
Since its first publication, Hugh Thomas's The Spanish Civil War has become established as the definitive one-volume history of a conflict that continues to provoke intense controversy today. What was it that roused left-wing sympathizers from all over the world to fight against Franco between 1936 and 1939?
Why did the British and US governments refuse to intervene? And why did the Republican cause collapse so violently?
Now revised and updated, Hugh Thomas's classic account presents the most objective and unbiased analysis of a passionate struggle where fascism and democracy, communism and Catholicism were at stake - and which was as much an international war as a Spanish one. 'Remarkable ... a definitive account' Sunday Times 'A prodigy of a book ... about the most heroic and pitiful story of the twentieth century' Michael Foot 'His masterwork' Independent 'A full, vivid and deeply serious treatment of a great subject' The New York Times Book Review Hugh Thomas is the author of, among other books, The Spanish Civil War (1962), which won the Somerset Maugham Award, Cuba: The Pursuit of Freedom (1971), An Unfinished History of the World (1979), and the first volume of his Spanish Empire trilogy, Rivers of Gold (2003).
Information
Format: Paperback
Pages: 1136 pages
Publisher: Penguin Books Ltd
Publication Date: 01/04/2003
Category: European history
ISBN: 9780141011615
Free Home Delivery
on all orders
Pick up orders
from local bookshops
Reviews
Showing 1 - 1 of 1 reviews.
Review by thorold
16/06/2015
This still gets referred to as the standard single-volume history of the Spanish civil war, and it thus seemed the obvious one to go for when I made my mind up to find out some more about the background to a period that has cropped up in a great many novels, poems and memoirs I've read over the years. Obviously, when you've only read one history of the war, you can't say anything about how it stands up to the competition - and there clearly are a lot more books about the war around now than there were fifty years ago when Thomas first came out - but I suspect that it holds its own rather well. Thomas seems to have updated it progressively as more sources became available to him, so it's quite lengthy now, but it never feels excessively detailed. It does have a bit of an old-fashioned atmosphere, but in a generally good way: it sticks to talking about politics, economics, diplomacy and the conduct of the actual war, and doesn't let itself get distracted into projecting the author's personality, expounding grand theories, or trying to explain to us what it's like to experience the horrors of war. Thomas in 1962 was writing for readers most of whom would have first-hand knowledge of modern warfare: he can simply let the facts speak for themselves, without needing to manipulate our emotions. They are certainly grizzly: if you had any illusions about the character of either side in the conflict, they will be dispelled quickly enough when you read about all the arbitrary executions, torture and imprisonment that went on behind the lines and after the battles. Thomas doesn't seem to be in the business of defending either side in the conflict: he clearly finds the republicans more interesting than the nationalists and devotes a greater proportion of time to them, but it looks as though that's simply because there was so much more going on on the republican side. Franco seems to have had his allies so well under the thumb that there was never much scope for dissension in the nationalist camp, whilst the Republic expended far too much of its energies in internal squabbles. It is rather easy to pick up the false idea from other accounts that the Spanish Civil War was fought by armies consisting principally of left-wing British and American poets and novelists on one side and German and Italian professional soldiers on the other, with a few Spaniards here and there on the sidelines. Thomas does his best to correct this, putting the foreign intervention into proportion, and reminding us that most of the volunteers in the International Brigades were working-class trade unionists, predominantly from France.The only thing that really struck me as something missing from his account that a more modern history would have made more of is the cultural impact of the civil war. Thomas often mentions the writers and poets who served in the war or were its victims, but beyond quoting a couple of Auden's poems, he doesn't really look at what they wrote or what effect it had, and he doesn't go into other cultural aspects - cinema, music, posters... But there are plenty of other books about such things.