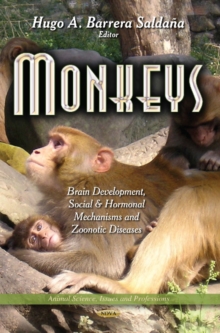 Monkeys : Brain Development, Social & Hormonal Mechanisms & Zoonotic Diseases
Hardback
Description
This book is a collection of fascinating contributions from research experts around the world and their studies on monkeys, their brains, behaviours, endocrinology, diseases that pose potential threats to our species and the evolution of hormonal genes.
If "humans are like onions -- made of layers", as said by the character in the movie Shrek, monkeys are perhaps made of the same layers, except for the outermost.
Thus, we share most of our genetics, physiology and pathology with them, in addition to our behaviour and social conduct.
These great similarities, particularly in metabolic aspects, are thoroughly documented by the authors that close the book which describes the baboon as just an experimental animal model used to discover the genetic and hormonal alterations behind the appearance of those chronic diseases that have become a pandemic.
The authors dealing with the brain development subject make the point that, given the position that non-human primates (NHP) occupy within the evolutionary tree, and as the closest phylogenetic species to humans, the rhesus monkeys constitute an ideal animal model for the study of fundamental neural mechanisms occurring throughout the developmental and maturation phases of life; from the neonatal to senile stages.
Information
Format: Hardback
Pages: 259 pages
Publisher: Nova Science Publishers Inc
Publication Date: 01/06/2014
Category: Zoology & animal sciences
ISBN: 9781631178511
Free Home Delivery
on all orders
Pick up orders
from local bookshops