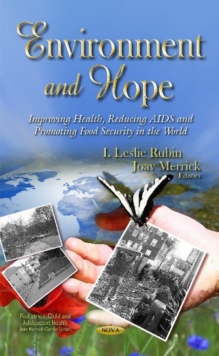 Environment & Hope : Improving Health, Reducing AIDS & Promoting Food Security in the World
Hardback
Description
This book represents a body of work performed by students from a diverse set of disciplines and a variety of universities in the United States and Santiago, Chile.
Each project was developed by the students to "break the cycle of social, economic and environmental health disparities".
This book contains the projects from the eighth annual Break the Cycle' program. "Break the Cycle" projects are designed to raise awareness among the students of the reality of environmental health disparities and its impact on the world around them.
Although students may feel daunted by the magnitude of the challenge, they need to know that even the relatively small project they develop can make a big difference and becomes part of an inexorable process towards making the world a better place for all of its citizens.
The dictum that "It is not incumbent upon you to finish the task, yet, you are not free to desist from it" empowers the students to take on a challenge for a lifetime and beyond.
We believe that the lessons the students learned from their own projects, from working with the other students and from appreciating the difference that each little effort can make, goes significantly towards cultivating our future leaders; these are the people who will carry on the work and make the world a better place in their time.
Free Home Delivery
on all orders
Pick up orders
from local bookshops