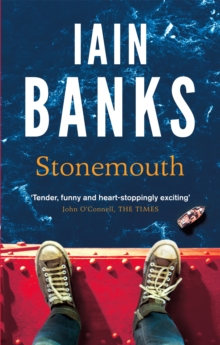 Description
Stewart Gilmour is back in Stonemouth. After five years in exile his presence is required at the funeral of patriarch Joe Murston, and even though the last time Stu saw the Murstons he was running for his life, staying away might be even more dangerous than turning up.An estuary town north of Aberdeen, Stonemouth, with it's five mile beach, can be beautiful on a sunny day. On a bleak one it can seem to offer little more than seafog, gangsters, cheap drugs and a suspension bridge irresistible to suicides. And although there's supposed to be a temporary truce between Stewart and the town's biggest crime family, it's soon clear that only Stewart is taking this promise of peace seriously.
Before long Stu steps back into the minefield of his past to confront his guilt and all that it has lost him, uncovering ever darker stories.
Soon his homecoming takes a more lethal turn than even he had anticipated.Tough, funny, fast-paced and touching, Stonemouth cracks open adolescence, love, brotherhood and vengeance in a rite of passage novel like no other.
Information
Format: Paperback
Pages: 448 pages
Publisher: Little, Brown Book Group
Publication Date: 01/01/2013
ISBN: 9780349000206
Other Formats
Hardback from £15.19
Paperback from £7.85
EPUB from £4.49
Free Home Delivery
on all orders
Pick up orders
from local bookshops
Reviews
Showing 1 - 3 of 3 reviews.
Review by chive
16/06/2015
This captured small town Scotland perfectly and with great humour. It really entertained me.
Review by Ma_Washigeri
16/06/2015
This book should be filed on my shelves with the other romantic thrillers that I love so much (Joan Aiken The Butterfly Picnic and a few more, Mary Stewart Touch Not the Cat and a few more). It's as if Iain Banks heard my pleading for more books like this - and just tossed one off - just for me. It obviously doesn't matter that the 'I' (or eye) of the story is a young man - I get the same delicious satisfaction as the story folds and unfolds.
Review by missizicks
16/06/2015
This is one of the best Iain Banks novels I've read. It's on a par with The Crow Road for plot and character realisation. Banks is very good at creating flawed but likeable characters. As with many of Banks' leading men, Stewart is a bit of an idiot, but not an annoying idiot. He's just human. The rest of the cast of characters could easily have been ciphers but Banks imbues them with enough humanity to make them matter as people as well as tools to move the plot along. The story itself is funny and sad and tragic and scary, set in a remote Scottish town run by rival criminal families who maintain a veneer of civility while using murder and violence as a means to control the population when their power is threatened. Stewart has had to leave town for a stupid mistake that offended one of the families and is now returning 5 years later for a funeral. He has to negotiate the politics of the town as though he's in a mediaeval court. As the book progresses, we find out what it is that Stewart did, and who else was involved. It's an ancient story that could have been a Greek tragedy or a play by Shakespeare but instead spans the first two decades of this century.