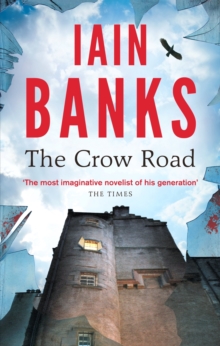 Description
From its bravura opening onwards, THE CROW ROAD is justly regarded as an outstanding contemporary novel.'It was the day my grandmother exploded. I sat in the crematorium, listening to my Uncle Hamish quietly snoring in harmony to Bach's Mass in B Minor, and I reflected that it always seemed to be death that drew me back to Gallanach.'Prentice McHoan has returned to the bosom of his complex but enduring Scottish family. Full of questions about the McHoan past, present and future, he is also deeply preoccupied: mainly with death, sex, drink, God and illegal substances...
Information
Format: Paperback
Pages: 512 pages
Publisher: Little, Brown Book Group
Publication Date: 01/02/2013
ISBN: 9780349139159
Other Formats
Paperback from £8.85
EPUB from £6.49
Free Home Delivery
on all orders
Pick up orders
from local bookshops
Reviews
Showing 1 - 1 of 1 reviews.
Review by macha
16/06/2015
i really loved this book, but saying exactly why might be a little bit tricky. because it's in a way a family novel, which presents as fairly ordinary, not my type of reading matter at all, and not looking too ambitious in what it does with it either, just comfortable, you know? except for the fact that in a way, it's absolutely perfect. it loves its characters, who are all so real they fly off the page. it loves its setting, the part of Scotland which Banks i must assume comes from. it's a love letter, really, to the land and to the people of that country. it doesn't read like it's engaged in Important Work. but it nails it, nails them all, the whole damn thing, with every line.there are no tricks to the writing, unless we count Banks' usual habit of not writing chronologically, so that you have to mostly guess the date of every bit, and extrapolate who's got the talking stick. and until you notice that in a way, he isn't so much writing a family saga as a murder mystery, across two generations. i went so far as to create some genealogical charts, i got so absorbed in the hidden shape of the narrative; next time (and there will be one) i read it, i will probably be able to fill in more, sketch out three or four generations of McHoans and Watts and Urvills, fit them into their proper places. it's not that you'll need to. it's just that the book made me want to; and it was a vantage point, a bit outside the story, that gave me an excuse to stop for a bit, so i could enjoy a bit longer whatever page i was reading.you know how sometimes a book is so full of little stories and characters that come to life and won't let go? so you don't want that little bit to end, much less the whole thing? it was like that, really. Lewis grabs off his younger brother's obsession object, Verity Walker, which is a good thing because the oblivious Prentice is obviously meant for Ashley Watt, who is smarter than he is, even smart enough to wait till he figures it out. Prentice is also at war with his father Kenneth McHoan, a gifted storyteller who has in some sense raised all of Prentice's generation on a steady diet of stories which Prentice at some point rejects as lies. like his father's vantage point on religion, which he takes exception to as colouring his world. then his father dies and this foolish one-sided estrangement on (shaky) principle cannot be mended. which sets Prentice to doggedly looking for Kenneth's younger brother Rory in his lost manuscripts, Rory who wrote in youth a travel book of some reputation, and then disappeared.Prentice then is a young man, both lovable and misguided, looking for his muse and his purpose in all the wrong places and attempting doggedly to make his own story, shape his own life. but Rory's story resists him, partly because he has rejected his father's story, and now he cannot fix that, or find himself. then Rory's story itself proves to be much different than the one he imagined. not to mention dangerous, leading him to not one but three different murders over time, while his search creates a threat both to his family and his own person that he is slow to divine. he can't go on being oblivious to everything around him. especially when simultaneously meddling. now he must act to protect what he loves, and to do that he must identify what he really does love, and care about.so on that level, it's a coming of age story, surrounded by complicated families, relationships, and stories Prentice has tried to escape, although they have made him. it all comes together as Prentice really finds himself, in an accelerated process he is ill prepared for, except inasmuch as his whole life has prepared him. simple, right? every line of it worked, and i knew them all, and their surroundings too, the land they all love, even the ones who hardly notice, even those like Kenneth who try to pin it down, and even those like his brother Rory and his three sons, who all try very hard to escape it.so, a story with many levels of structure buried in plain sight. a family saga, a murder mystery, a coming-of-age story, a regional novel. and more (it's really about the nature and the power of stories, for instance)(and the process of finding your own voice, not only in writing but in life)(okay, stopping now). from a master storyteller who's himself just getting started here, and who effortlessly always manages to make the reader care about whatever story he's writing today, and everything and everyone on every page. and the crow road, in the vernacular? that's the road that leads to death, that we are all on, though hopefully not coming to the end of that today.