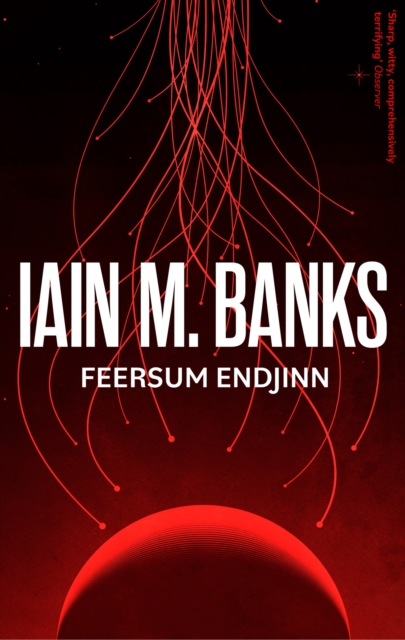 Feersum Endjinn
Paperback / softback
Description
The novels of Iain M. Banks have forever changed the face of modern science fiction.
With breathtaking imagination and extraordinary storytelling, they have secured his reputation as one of the most extraordinary and influential writers in the genre. 'Banks is a phenomenon' William Gibson Count Sessine is about to die for the very last time . . . Chief Scientist Gad­fium is about to receive the mysterious message she has been awaiting from the Plain of Sliding Stones . . . Bascule the Teller, in search of an ant, is about to enter the chaos of the crypt . . . This is the time of the encroachment and everything is about to change.
Although the dimming sun still shines on the vast, towering walls of Serehfa Fastness, the end is close at hand.
The King knows it, his closest advisers know it, and the crypt knows it too; so an emissary has been sent - an emissary who holds the key to all their futures. Praise for the novels of Iain M. Banks:'Epic in scope, ambitious in its ideas and absorbing in its execution' Independent on Sunday'Banks has created one of the most enduring and endearing visions of the future' Guardian'Jam-packed with extraordinary invention' Scotsman'Compulsive reading' Sunday Telegraph Books by Iain M.
Banks:Consider PhlebasThe Player of GamesUse of WeaponsExcessionInversionsLook to WindwardMatterSurface DetailThe Hydrogen SonataThe State of the ArtAgainst a Dark BackgroundFeersum EndjinnThe AlgebraistAlso now available: The Culture: The Drawings - an extraordinary collection of original illustrations faithfully reproduced from sketchbooks Banks kept in the 1970s and 80s, depicting the ships, habitats, geography, weapons and language of Banks' Culture series of novels in incredible detail.
Information
Format:Paperback / softback
Pages:288 pages
Publisher:Little, Brown Book Group
Publication Date:30/11/2023
Category:
ISBN:9780356521749
Information
Format:Paperback / softback
Pages:288 pages
Publisher:Little, Brown Book Group
Publication Date:30/11/2023
Category:
ISBN:9780356521749