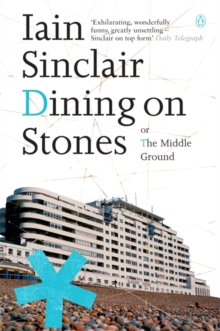 Dining on Stones
Paperback
Description
Dining on Stones is Iain Sinclair's sharp, edgy mystery of London and its environs Andrew Norton, poet, visionary and hack, is handed a mysterious package that sees him quit London and head out along the A13 on an as yet undefined quest.
Holing up in a roadside hotel, unable to make sense of his search, he is haunted by ghosts: of the dead and the not-so dead; demanding wives and ex-wives; East End gangsters; even competing versions of himself.
Shifting from Hackney to Hastings and all places in-between, while dissecting a man's fractured psyche piece by piece, Dining on Stones is a puzzle and a quest - for both writer and reader. 'Exhilarating, wonderfully funny, greatly unsettling - Sinclair on top form' Daily Telegraph 'Prose of almost incantatory power, cut with Chandleresque pithiness' Sunday Times 'Spectacular: the work of a man with the power to see things as they are, and magnify that vision with a clarity that is at once hallucinatory and forensic' Independent on Sunday Iain Sinclair is the author of Downriver (winner of the James Tait Black Memorial Prize and the Encore Award); Landor's Tower; White Chappell, Scarlet Tracings; Lights Out for the Territory; Lud Heat; Rodinsky's Room (with Rachel Lichtenstein); Radon Daughters; London Orbital, Dining on Stones, Hackney, that Rose-Red Empire and Ghost Milk.
He is also the editor of London: City of Disappearances.
Information
Format: Paperback
Pages: 464 pages
Publisher: Penguin Books Ltd
Publication Date: 28/04/2005
ISBN: 9780141014821
Free Home Delivery
on all orders
Pick up orders
from local bookshops
Reviews
Showing 1 - 2 of 2 reviews.
Review by Fluffyblue
16/06/2015
This book took me forever to read, and it's not particularly long - 450 pages. I can't say I didn't enjoy it, because I think I did. It wasn't an easy read and it was very fast paced. Sinclair definitely has a style of his own that you have to get used to. I didn't understand some of the points of the book - where he kept seeing himself, although he didn't know it was him, and the forwards and backwardsness of it at times.It was a rewarding read though, and I'm glad I perservered and didn't give up on it. It was probably a good read when concentration levels aren't that great because it was quite disjointed and I think that was the point of the book, so you could let your brain flow whilst reading it.
Review by olduvai
02/03/2016
I'm not entirely sure what to make of it. It was interesting and the writing was pretty brilliant, but I just couldn't sustain the interest. And left it 1/3 in.