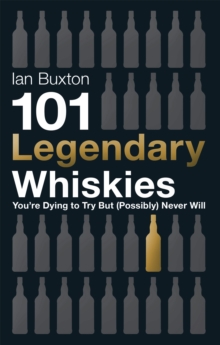 101 Legendary Whiskies You'Re Dying to Try but (Possibly) Never Will
Hardback
Description
Ian Buxton's latest book explores the finest and rarest whiskies in the world: wonderful whisky you're dying to try but probably never will. These drams may be extraordinarily hard to find, impossible to buy or literally the sole survivor of a long-lost distillery - some are even priceless - but, for the first time ever, they're assembled here for you to 'savour'.Some are the Ferraris of whisky: luxury thoroughbreds beyond the reach of all but the most fortunate, discerning and wealthy of enthusiasts and collectors.
Some are whisky's equivalent to the Model T Ford - once ubiquitous, but now rendered exceptional by the passage of time. All are legendary.Whether the world's oldest, rarest or most expensive, leading whisky writer Ian Buxton unlocks these liquid treasures and meets the people who make, sell or simply preserve them. 101 Legendary Whiskies You're Dying to Try But (Probably) Never Will shares the secrets of whisky's elite - what makes these whiskies so special, so intriguing and so desirable.
Information
Format: Hardback
Pages: 224 pages, 101 colour
Publisher: Headline Publishing Group
Publication Date: 12/08/2014
Category: Spirits & cocktails
ISBN: 9781472210678
Free Home Delivery
on all orders
Pick up orders
from local bookshops
Reviews
Showing 1 - 1 of 1 reviews.
Review by TadAD
27/08/2015
Honestly, I wanted to like this book a lot more than I did. I love whiskey. I like lists. What went wrong? Most of it was misplaced expectations. I thought this would be a book of whiskies you might, with a few exceptions, endeavor to try in your life...sort of like bucket list items. Maybe you'd have to work at it, maybe you'd have to save a lot, but you could get there. Unfortunately, the word "probably" in the subtitle should be "almost certainly" for most of the contents.Of the 101 whiskies, only 31 are designated Living, which means they are "readily available". I'm a bit skeptical of that designation in some cases since the availability notes might say "rare" which, in my mind, is sort of an antonym for "readily available". The remaining 70 are unavailable or virtually so unless you have 5-6 figures to spend on a bottle of whiskey plus some <i>exceedingly</i> good contacts to find that bottle.So, I was disappointed in what I found. I admit that this is as much me as the book.What you do get is a listing of a bunch of whiskeys Mr. Buxton has heard about, most of which he's never tasted. The definition of "legendary" stretches to "famous" and you find a $23 bottle of Johnnie Walker Black in the same list as a $189,000 bottle of Dalmore. Each entry contains a short anecdote or history, some of which are amusing or interesting, others blandly factual.I have a minor quibble. There's no index and the table of contents has four entries: Introduction, Acknowledgements, Picture Credits and everything else. An index is easy to create for a book like this and would be useful to find a particular brand without a linear search through the book, or to find all the whiskeys labelled Lost.It was a Christmas present, so no harm done but I'd be hard pressed to justify spending $20 for something like this unless I had a passion for lists of unobtainable bottles.