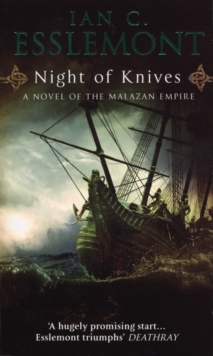 Night of Knives : A Novel of the Malazan Empire
Paperback
Description
Malaz gave a great empire its name, but now this island and its city amount to little more than a sleepy backwater.
Until this night. Because this night there is to be a convergence, the once-in-a-generation appearance of a Shadow Moon - an occasion that threatens the good people of Malaz with demon hounds and other, darker things.
Also it is prophesied that the Emperor Kellanved will return this night, and there are those who would prevent that happening at any cost.
As factions within the Empire draw up battle lines, an ancient presence begins its all-out assault upon the island.
Witnesses to these cataclysmic events include a thief called Kiska, and Temper, a war-weary veteran.
Although they do not know it, they each have a part to play in a confrontation that will determine not only the fate of Malaz City but also of the world beyond...
Information
Format: Paperback
Pages: 480 pages
Publisher: Transworld Publishers Ltd
Publication Date: 05/05/2008
Category: Fantasy
ISBN: 9780553818291
Free Home Delivery
on all orders
Pick up orders
from local bookshops
Reviews
Showing 1 - 3 of 3 reviews.
Review by saltmanz
16/06/2015
Downright confusing and shakily written. My biggest complaint is a lot of ambiguous prose that could have been easily cleared up with some commas or the addition of a couple words. I also had a hard time following what was happening and keeping track of characters. Granted, much of this may have been intentional -- the main POV characters are as lost as we readers -- but that doesn't make it enjoyable to read. What does make it a worthwhile read is the additional depth it adds to the shared world of the Malazan Empire (co-created by Steven Erikson.)
Review by macha
16/06/2015
it's a thousand years before the Book of the Fallen, and this is the night that put that future in motion. so it's essential reading for anyone interested in the Malazan Empire. here we get lucky, as he zeroes in on one night that changed that world. and it's quite exciting to get a look at the Emperor Kellanved and his Dancer, with Tayschrenn, set against Surly before she became Laseen. and we get to look at the Claw and the Crimson Guard on the ground, the elder Warrens, and the Bridgeburners too. the new-to-us characters come across vividly, and the glimpses we get of members of the Elder Races, all quirky personalities driven by quite unhuman motivation, are pretty thrilling. Esslemont is not near the writer Erikson is: he's more of a plodder. but it's his world too, and it's a gift to finally get a close look at this earlier period.
Review by DRFP
16/06/2015
An interesting read, though not a brilliant one. Having read the first four Erikson Malazan books I have ambivalent thoughts about the series. Sometimes it's great (most of <i>Memories of Ice</i> and portions of the other books) but at other times Erikson's reach frequently exceeds his grasp. For all the thousands of pages devoted to his storyline and characters many elements are oddly flat. I thought it was about time to see what Esslemont was up to before pushing on ahead with the main Malazan storyline. Esslemont is a very different writer. On the one hand he certainly isn't as skilled a prose stylist as Erikson but this short (by Malazan standards) novel, focused mostly on one night's events is refreshing in its brevity and avoids Erikson's constant mistake of trying to juggle too many balls at once. It's true that the story could be written more tightly and perhaps Kiska could have been a more interesting main character (her little islander dreaming of bigger things and getting in over her head is pretty basic and cliché). Yet for the most part the action rolls along and the insights provided into events prior to <i>Gardens of the Moon</i> is enough to make this a worthwhile read for fans of the series.I think this might actually be a good place to start the Malazan series. It's a more gentle introduction to the concepts of the world than the plunge into the deep end that GotM provides (aside from the fact that everyone in NoK calls Laseen "Surly" when we're informed in the prologue of GotM that, prior to NoK, she had already assumed the name Laseen - but whatever, a minor quibble).
Also by Ian Cameron Esslemont | View all
Also in the Malazan Empire series | View all