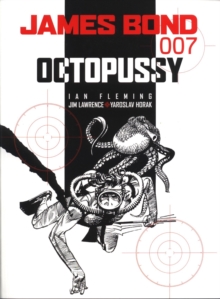 James Bond : Octopussy
Paperback
Description
Bond is back! After 10 years out of print, the world's greatest secret agent returns, in two classic adventures brought together in a deluxe James Bond collectors' library paperback edition!
When an old friend's body is found in the Alps 20 years after he disappeared, James Bond quickly finds himself caught between Nazi gold, the Chinese Tongs and the eight-armed embrace of Octopussy! And Bond encounters more mortal danger beneath the waves whilst trailing a missing submarine in The Hildebrand Rarity!
The second volume in this series contains an exclusive introduction from Octopussy herself, Maud Adams, and background material on the history of James Bond!
Information
Format: Paperback
Pages: 96 pages, b/w colour strip
Publisher: Titan Books Ltd
Publication Date: 21/05/2004
Category: Comics and Graphic Novels
ISBN: 9781840237436
Other Formats
Paperback from £6.09
EPUB from £4.99
Free Home Delivery
on all orders
Pick up orders
from local bookshops
Reviews
Showing 1 - 1 of 1 reviews.
Review by richardderus
16/06/2015
Rating: 3.5* of fiveFor clarity's sake, I'll remind the assembled company that I'm reviewing the 1983 Eon-produced film, not the story from the collection of the title. Because really there's no connection between the two to speak of, except Octopussy (Maud Adams from the far-worse The Man With The Golden Gun) herself, and a swift recap by Bond and Octopussy of the story as they're out walking on her girl-island.A paranoid Cold War fantasy of nuclear war. It got old,fifty years on. Plenty of chases and improbably accented Russians. A lot more of dear old Q, which I loved. The bits set in India had Louis Jourdan (Gaston from Gigi, the pervy old musical about a middle-aged man buying a pubescent girl's virginity from her grandmother, such a hoot!) playing an Afghan prince (hell with the French accent). Next to Octopussy, he's the main baddie; so yet again there was a lamentable lack of hunky blond henchrats for me to ogle. However, there was compensatory Indian hunk-a-rama action. Gawds bless Bollywood!Boring old Simon Templar...I mean Roger Moore!...wasn't much interested in doing this film until Connery was announced to release Never Say Never Again the same year. Ah, jealousy.The circus scenes, like all circus stuff, made me itch. I hate clowns. The crocodile submarine (you read that right) was laugh-out-loud funny. The tuk tuk races were fun. The Saint...dear me, Bond!...being droll wasn't funny.The 5-series BMWs have aged well, the Alfa that Bond steals is cool, Mercedeses always look the same to me...the stolen jewelry plot is so lame, let's not discuss it...the "blue-ringed octopus" is a rubber model at least 10 times bigger than a real blue-ringed octopus...the girl ninjas in orange skin-tight cat suits...well, it's Bond flick.The title tune, called "All Time High," was sung by Rita Coolidge. Rita Coolidge! I had utterly forgotten her existence. I had no memory whatsoever of the tune, either.Three stars for making more plot-sense than most, a half-star for the Bollywood hunks, but really, unless you're a major Bondaholic, don't bother.
Also in the James Bond S. series