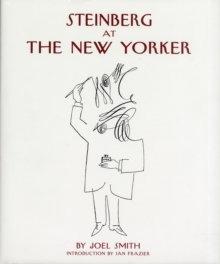 Steinberg at the New Yorker
Hardback
Description
Born in Romania in 1914, Steinberg studied architecture in Milan and made a name for himself as a cartoonist before fleeing fascist Italy in 1941.
Avidly sponsored by The New Yorker, he arrived in Manhattan the following year, only to join the military on a worldwide tour of duty, which he chronicled in the pages of the magazine.
Through the 1950s, Steinberg's acute, spontaneous, fluid line was in constant demand among periodicals and book publishers throughout Europe and the United States.
In sixty years, he worked with every editor The New Yorker has had, and he created art of every category it employed, including covers, cartoons, "spot" drawings, illustrations for Profiles, and multi-page portfolios.
All 87 of Steinberg's covers are seen here in full colour, as well as colour drawings which originally appeared in black and white, and 25 thematic plate sections which explore his defining preoccupations.
The accompanying essay by art historian Joel Smith considers Steinberg's work in the context of the magazine's evolution, during and after World War II, from a humorous weekly to one of the defining standard bearers of taste and intelligence in American letters.
Free Home Delivery
on all orders
Pick up orders
from local bookshops