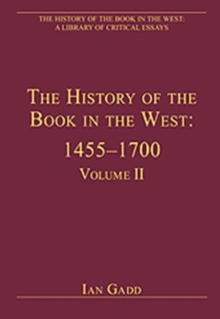 The History of the Book in the West: 1455-1700 : Volume II
Hardback
Description
Beginning with one of the crucial technological breakthroughs of Western history - the development of moveable type by Johann Gutenberg - The History of the Book in the West 1455-1700 covers the period that saw the growth and consolidation of the printed book as a significant feature of Western European culture and society.
The volume collects together seventeen key articles, written by leading scholars during the past five decades, that together survey a wide range of topics, such as typography, economics, regulation, bookselling, and reading practices.
Books, whether printed or in manuscript, played a major role in the religious, political, and intellectual upheavals of the period, and understanding how books were made, distributed, and encountered provides valuable new insights into the history of Western Europe in the fifteenth, sixteenth, and seventeenth centuries.
Also in the The History of the Book in the West: A Library of Critical Essays series | View all