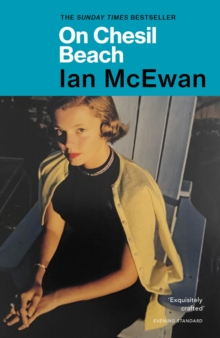 On Chesil Beach
Paperback
Description
It is July 1962. Edward and Florence, young innocents married that morning, arrive at a hotel on the Dorset coast.
At dinner in their rooms they struggle to suppress their private fears of the wedding night to come...
Information
Format: Paperback
Pages: 176 pages
Publisher: Vintage Publishing
Publication Date: 01/01/2008
ISBN: 9780099512790
Other Formats
Paperback from £7.65
EPUB from £4.99
Free Home Delivery
on all orders
Pick up orders
from local bookshops
Reviews
Showing 1 - 5 of 14 reviews.
Previous | Next
Review by Greatrakes
16/06/2015
The more I think about the novel/short story aspect the more I see this as three, four, or even more short stories cobbled together. I can see many of the scenes as complete short stories, the meal in the honeymoon suite with the waiters in attendance, the rendezvous at the concert he failed to keep, walking in the woods at sixty and remembering – all might have been used to hang a short story on. It would also explain the disjointed nature of the book, the story is about both of them and yet the ending is about him I felt slightly robbed by that.I wasn't convinced by his life after Chesil beach. His repression, and the chaos of his home life, makes me inclined to imagine him, not as an avant-garde bohemian rock-concert promoter, retailer of records, or health food entrepreneur, but as a buttoned-up accountant, who goes home at night to his suburban house and unsatisfactory second marriage.The best bit for me directly followed the failed consummation, where Edward's shame and embarrassment turns in to anger and resentment – I thought his change from blaming himself to blaming her, all in a moment, was brilliantly written and entirely convincing. I could see a relationship turning entirely on such a moment; in fact I suspect many do.
Review by petterw
16/06/2015
A brilliantly written story about how to be a human being, really, on breakdown of communication even with people we love, on the true difference between men and women, on how monumental a moment can be in our lives. Ian McEwan has become one of the greatest writers of our time.
Review by Samjane
16/06/2015
I'm a McEwan fan, and strangely so, because I generally don't enjoy books with unlikable main characters. I dislike most of McEwan's characters, and yet I am drawn to them, and to their stories, through the author's incredible ability to make me feel that they are very real. On Chesil Beach is a sad and somehow pointless story, and all the more poignant for its pointlessness. Some reviewers think the last chapter detracted from the novel. In a sense, it removed me as reader from the intense intimacy I felt with the characters until that point, and for that reason I didn't really like it. But when I closed the book I felt it was just right - we needed to know that their lives continued after this terrible night, because we needed to be reminded that these are real people and that such terrible nights both impact hugely and are often quickly forgotten. This is the way life is, and this is McEwan's gift.
Review by Jargoneer
16/06/2015
Upon finishing this short novel I couldn't help thinking, did I miss something?I found myself looking for viable subtexts. For example, the year 1962 must be a reference to Larkin - do Florence (classical music, upper middle-class, frigidity) and Edward (blues, lower middle-class, sexual desire) represent the past and future of the UK as of that date? Why Chesil Beach? A reflection of 'elemental' forces, or that a beach is traditionally romantic, walking hand-in-hand, but Chesil beach is hard and stony and difficult to traverse. If this wasn't by Ian McEwan, leading British novelist, would I have been looking so hard for something beneath the plot - perhaps sometimes a story is just a story.The majority of the book relates the courtship of Edward and Florence, and the build-up to their wedding night. For the most part, it is successful in capturing the young romance, and portraying the character's sexual anxieties and fears (admittedly, probably better when dealing from the male perspective). Some of the minor details such as the wedding meal at a third-rate hotel are excellent - accurate and funny.The problems arise, in more ways than one, in the wedding night's sexual encounter, and it's aftermath. I found myself amused with the former, and disbelieving of the latter - the forces that pushed young people into marriage in 1962 tended to keep them in that marriage as well. It is easier to enter a prison than it is to break out of one. The breakdown of communication between the characters was so extreme that they stopped being believable and became marionettes.The final section, which details the later lives of the two characters, struck me as completely unnecessary - any poignancy in previous events was instantly undermined by a cheap sentimentality, and by excluding the reader from imagining possible futures. By cutting this section, and tightening the other sections, McEwan could have produced a first class short story/novella.Overall, well-written but essentially slight tale that dissipates much of it's effectiveness towards the end of the narrative.ps...every time I think of this book I end up with the title ringing through my head to the tune of Echo Beach by Martha & the Muffins.
Review by deep220
16/06/2015
Was not my favorite book read this year. On Chesil Beach was however beautifully written and the characters were likeable in their awkwardness. What is didn't care for in the book was the lack of communication, the characters never grow or develop. Overall just a sad novel that never developes much of a story.