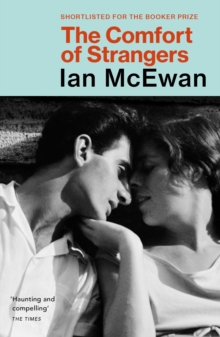 The Comfort of Strangers
Paperback
Description
As their holiday unfolds, Colin and Maria are locked into their own intimacy.
They groom themselves meticulously, as though there waits someone who cares deeply about how they appear.
Then they meet a man with a disturbing story to tell and become drawn into a fantasy of violence and obsession.
Information
Format: Paperback
Pages: 112 pages
Publisher: Vintage Publishing
Publication Date: 03/01/1998
Category: Crime & mystery
ISBN: 9780099754916
Free Home Delivery
on all orders
Pick up orders
from local bookshops
Reviews
Showing 1 - 5 of 6 reviews.
Previous | Next
Review by edwinbcn
16/06/2015
I have read nearly all of Ian McEwan's novels, this one being an early, short one. Reading this elegant, somewhat stilted novel, I wondered how much later readers would understand of the atmosphere. In my view, the reader should have a good grasp of the 1970s to understand what is going on, and why this story seems plausible. The novel itself provides very little description.The comfort of strangers is a fine novel, full of languid descriptions of Venice. A married couple, somewhat wearied in their relationship, make acquaintance with a handsome, apparently very sympathetic man. At the end of the novel, the story works out in a gruesome twist, typical of McEwan's novels.This novel would be a very good novel to start reading Ian McEwan, or, as in my case savour the taste of his early works. Very nice.
Review by jhedlund
16/06/2015
I really struggled with the rating on this book. On the one hand, I didn't like the story at all. On the other, the author didn't intend for readers to like the story and therefore was very effective. The writing is pure brilliance, without a doubt. However, I could have lived without the images that will now haunt the rest of my days for having read this book. If I were rating the book on enjoyment alone, the rating would be at least one star fewer. In the end, McEwan's mastery of the craft of writing won out for me, and I had to give it four stars. This is quite a compliment of McEwan's artistry, since writing seldom trumps enjoyment in my rating and reviewing.
Review by rcorfield
16/06/2015
I think some of the other reviews here have been a little harsh on this book. One of Ian McEwan's strengths is his descriptive powers and this book contains powerful evocations of mood, atmosphere and place; in this case Venice. He builds and releases tension well but you get a strong feeling of foreboding throughout the book.Sometimes McEwan has a problem with the endings of his books (see Amsterdam), but I didn't think that was the case here. A slim volume and a quick read, but not one I'll forget in a hurry.
Review by booksbooks11
16/06/2015
I don't think I can really rate this a 5 for at least another year. In a year will this novel still be creeping around under my skin, invading my thoughts and have me wondering why? I don't know for sure but I suspect it will. If you want to find the essence of suspense it's somewhere hidden in this very short but intense book.
Review by marek2009
16/06/2015
I read this after The Daydreamer, as I realised I haven't read any McEwan in a while. the concept behind this is very interesting, but its his 2nd novel, & McEwan is primarily a stlyist, which took time to mature. This cheese is not fedit enough.