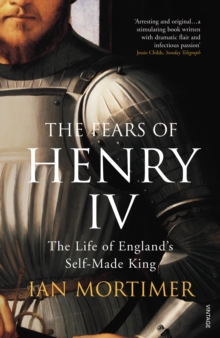 The Fears of Henry IV : The Life of England's Self-Made King
Paperback
Description
In June 1405, King Henry IV stopped at a small Yorkshire manor house to shelter from a storm.
That night he awoke screaming that traitors were burning his skin.
His instinctive belief that he was being poisoned was understandable: he had already survived at least eight plots to dethrone or kill him in the first six years of his reign.
Henry IV had not always been so unpopular. In his youth he had been a great chivalric champion and crusader.
The son of John of Gaunt, he was courteous, confident, well-educated, generous, devoted to his family, musical and spiritually fervent.
In 1399, at the age of thirty-two, he was enthusiastically greeted as the saviour of the realm when he ousted from power the insecure and tyrannical King Richard II.
But therein lay Henry's weakness. He had to contend with men who supported him only as long as they could control him; when they failed, they plotted to kill him.
Welsh, French and Scottish adversaries also tried to take advantage of his questionable right to the crown.
Such overwhelming threats transformed him from a hero into a duplicitous murderer: a king prepared to go to any lengths to save his family and his throne. That legacy of unrest has defined Henry's subsequent reputation.
Henry's notoriety in the sixteenth century was such that merely to write about him was to risk imprisonment in the Tower.
Shakespeare was forced to downplay his achievements, and instead to present his adversary Richard II as the wronged man.
But what Henry actually provoked was a social revolution as much as a political one.
Against all the odds, he took a poorly ruled nation, established a new Lancastrian dynasty, and introduced the principle that a king must act in accordance with parliament.
He might not have been the most glorious king England ever had, but he was one of the bravest, and certainly the greatest survivor of them all.
Information
Format: Paperback
Pages: 496 pages
Publisher: Vintage Publishing
Publication Date: 03/07/2008
Category: Biography: royalty
ISBN: 9781844135295
Free Home Delivery
on all orders
Pick up orders
from local bookshops
Reviews
Showing 1 - 2 of 2 reviews.
Review by john257hopper
16/06/2015
This is a very well written and comprehensive biography of this King, who is little studied these days, probably less so than any other late Medieval King. The author paints a picture of Henry which is at variance with the image of him as a usurper of the rightful ruler, Richard II (an image particularly favoured, for obvious reasons, by the Yorkists later in the fifteenth century). Richard was undoubtedly a tyrant in almost a modern totalitarian sense, in that he wanted to eliminate any and all criticism of his rule, redefining it all as treason. His final overthrow in 1399 was very understandable, though Henry's starving him to death seems unnecessarily cruel.Henry wanted to rule in a much more positive and consensual way, but was faced by near constant rebellion, caused in large part by lack of funds leading to unpopular taxation. At the same time, Parliament was becoming more powerful and self confident and Henry could never feel totally safe, now that he himself had broken a precedent by deposing his predecessor, showing that such a previously pretty unthinkable action could indeed be taken. He survived by adapting to changing situations and being more flexible than Richard. His final years racked by painful illness, his reputation was rapidly overshadowed by that of his son and heir, the victor of Agincourt. This book provides a much needed reassessment of this neglected ruler. 5/5
Review by baswood
16/06/2015
It is not an easy task to write a full scale biography of an early 15th century medieval King, especially one that has been given a bad press by William Shakespeare. There were of course a few chroniclers and writers of events at the time, or a little time afterwards but much of this information would have been written for a patron and would have been biased in accordance with the patron's views. Shakespeare himself could not have written a play that would in any way be sympathetic to a usurper and murderer of an anointed king, therefore a biographer today, must examine the primary sources: none of which would be in biographical form but would normally be official documents and official letters, in French, Latin or medieval English. A narrative story can be pieced together, but it is Mortimer's aim to go further: he wants to get to the emotional development of his subject, he wants to bring out the character of the man from the historical background and he wants us to see the world through Henry's Eyes. This will inevitably mean a somewhat sympathetic view, but Ian Mortimer has convinced me that Henry IV deserves some of our sympathy.Mortimer has delved deeply into the primary sources, but just as importantly he has presented a believable portrait of Medieval times. He has previously written biographies of Edward III and Sir Roger Mortimer that successfully incorporated the historical background to the earlier Plantagenet Kings into his character studies, he is an author steeped in the history of the times and he has used this to great effect in providing a portrait of a king seen in the terms of a medieval world view. Henry of Bolingbroke was the son of John of Gaunt Duke of Lancaster son of King Edward III. Edward The Black Prince was the eldest son, and heir to the throne, but he died before his father, but secured the right to have his son Richard to be first in line of succession. Richard became King Richard II, but remained childless, therefore the next in succession in accordance with Edward III's wishes was Henry Bolingbroke. Richard and Henry grew up together as children and Mortimer does a fine job of piecing together their relationship and development. Richard was just 14 when he became king and court officials were appointed to carry out the kings business until he became of age and Henry's father John of Gaunt was the first among equals. Richard's kingship soon started to run into trouble, he was not the strong warrior leader that was sought at the time and his reliance on court favourites led to in-fighting and disputes. Richard became increasingly autocratic and worked towards being an absolute monarch, with a view that if anyone disagreed with him he did so 'on pain of death'. Henry's position at court became increasingly tenuous and following a dispute with Mowbray (Duke of Norfolk) Richard had him banished from the realm.Henry spent nearly a year in France and then learned that Richard had made his banishment permanent. Henry was the leader of the Lancaster family the richest and most powerful landed family in England and his effective disinheritance would fracture the Lancaster dynasty. He took ship back to England and encouraged by popular support overthrew Richard and took the crown for himself. Henry IV had a troubled reign as factions in support of Richard hatched plots against him, the most serious resulted in the battle of Shrewsbury one of the bloodiest battles on English soil. Henry won that one, but was plagued by his inability to subdue the Welsh and the Scots from encroaching on English soil and was always under threat from Invasion from France The treasury could not afford to finance his wars and the Commons resisted his attempts to levy taxes and attempted to curtail the Kings powers at every opportunity.When Henry died in 1413 he had largely turned things around. He had stayed in power and secured the succession for his sons. He had subdued the Scots and had their King in the Tower of London. The Welsh threat had largely dissipated and France was tearing itself apart in a civil war. He had come to some accommodation with Parliament and his finances were in better order. A successful reign by any yardstick, but not an outstanding one. Mortimer says in a fine summary:<i>"There is almost no sense in which his reign can be considered great: it was dogged by financial problems and rebellion, so that defeating or outlasting all his enemies is his sole claim to greatness as a ruler. But in terms of his status as a man, those judgements do not apply. His rule may have been characterised by crisis and opposition, but he was one of the most courageous, conscientious, personally committed and energetic man ever to rule England. It is unfortunate that he has historically been judged solely as a king and not as a man"</i> Mortimer has achieved what he had set out to do he has made the reader see Henry IV as a man. The biography includes notes of all the sources a select bibliography, family trees and an excellent index. There are seven appendices on issues that don't quite fit into the narrative and an excellent introduction and summary. I have read Mortimer's previous books on the Plantagenets and to my mind they have got better and better. The narrative flows well and quietly holds the attention. I really cannot fault this and found it a superb read: 5 stars.