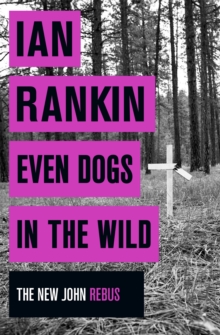 Even Dogs in the Wild
Hardback
Description
Hands in his pockets, Rebus turned to face Cafferty.They were old men now, similar builds, similar backgrounds.
Sat together in a pub, the casual onlooker might mistake them for pals who'd known one another since school.But their history told a different story.Retirement doesn't suit John Rebus.
He wasn't made for hobbies, holidays or home improvements.
Being a cop is in his blood.So when DI Siobhan Clarke asks for his help on a case, Rebus doesn't need long to consider his options.Clarke's been investigating the death of a senior lawyer whose body was found along with a threatening note.
On the other side of Edinburgh, Big Ger Cafferty - Rebus's long-time nemesis - has received an identical note and a bullet through his window.Now it's up to Clarke and Rebus to connect the dots and stop a killer.Meanwhile, DI Malcolm Fox joins forces with a covert team from Glasgow who are tailing a notorious crime family.
There's something they want, and they'll stop at nothing to get it.It's a game of dog eat dog - in the city, as in the wild.EVEN DOGS IN THE WILD brings back Ian Rankin's greatest characters in a story exploring the darkest corners of our instincts and desires.
Information
Format: Hardback
Pages: 352 pages
Publisher: Orion Publishing Co
Publication Date: 05/11/2015
Category: Crime & mystery
ISBN: 9781409159360
Other Formats
Paperback from £7.85
EPUB from £4.99
CD-Audio from £19.85
Free Home Delivery
on all orders
Pick up orders
from local bookshops
Reviews
Showing 1 - 1 of 1 reviews.
Review by Eyejaybee
27/01/2016
Some fictional coppers seem to have Peter Pan qualities, continually investigating and solving serious crimes without ever getting older. Chief Inspector Wexford and Superintendent Dalziel emerged fully formed from their creators' brows and made their first appearance already adorned with high rank.When creating his thrawn protagonist, Ian Rankin chose a more realistic approach, and we have seen John Rebus age in real time, becoming increasingly cantankerous and inimical to his superiors' authority. As this twentieth Rebus novel opens he has finally finished work and left the police force. Even his cold case work, which had offered a slight reprieve from the looming threat of being left entirely to his own devices, has now dried up, and he is, officially, retired.Crime, of course, continues in Edinburgh unabated, and as the novel opens Detective Inspector Siobhan Clarke, for so long Rebus's protégée (whether she liked it or not) is part of the team investigating the murder in his own house of David Minton. This is a high profile case drawing attention from the local and national press as well as politicians, senior officers and the judiciary because David Minton was also know as Lord Minton, former Lord Advocate of Scotland and one of the most senior prosecutors of his generation.The attack on Lord Minton had been brutal and protracted, leading investigators to consider whether the murder represented revenge for the outcome of one of his cases. However, shortly afterwards a local retired businessman is shot at, also in his own home. Always interested whenever firearms are concerned, the police's attention is additionally piqued because the retired businessman in question is one Morris Gerald Cafferty, who as 'Big Ger', has dominated organised crime in the capital for the last few decades. Having been alerted to the gunshot by a neighbour, the police find that Cafferty won't allow them into his house, and he will only agree to talk to John Rebus, his long time adversary.Meanwhile, Detective Inspector Malcolm Fox, formerly of 'the Complaints' (the internal investigation department) but now returned to mainstream policing, has been asked to act as liaison with a special surveillance team over in Edinburgh from Glasgow. They are watching a Glasgow gang boss who they suspect is wanting to establish a toe-hold in the capital.Rankin's principal characters are now well-established, developed over they years and resonant with authenticity and credibility. There is, as with many of Rankin's books, a strong undercurrent of melancholy. Different characters make bleak jokes throughout the book, though there is never any hint that any of them might be taking much pleasure in life. Clarke now seems slightly world-weary, and after years of disapproving of Rebus's prodigious alcohol intake, might now be drinking rather too much herself. Fox is slightly lost, struggling to work his way back into the police fold after his years in the leper colony of Complaints. Rebus, like Sir Bedivere at the end of Tennyson's 'Idylls of the King' sees the days darken around him, and the years ...Rankin manages the separate plot strands as capably as ever. The story rattles along and even twenty pages from the end there is little indication of how the various subplots will be resolved, and as always, the city of Edinburgh looms throughout the story, like a character in its own right. A very worthy addition to the Rebus canon.
Also in the A Rebus Novel series | View all