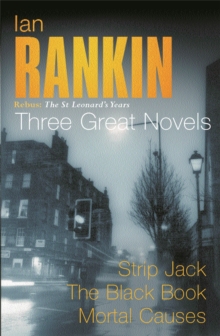 Ian Rankin: Three Great Novels : Rebus: The St Leonard's Years/Strip Jack, The Black Book, Mortal Causes
Paperback
Description
The second Rebus omnibus comprising books 4,5 and 6 in the Rebus series: Strip Jack; The Black Book; Mortal Causes.Strip Jack: MP Gregor Jack is caught in an Edinburgh brothel with a prostitute only too keen to show off her considerable assets.
Then Jack's wife disappears. Someone wants to strip Jack naked and Rebus wants to know why.The Black Book: When a close colleague is brutally attacked, Rebus is drawn into a case involving a hotel fire, an unidentified body and a long-forgotten night of terror and murder.
Rebus must piece together a jigsaw no one wants completed.Mortal Causes: It is August in Edinburgh and the Festival is in full swing.
A brutally tortured body is discovered in one of the city's ancient subterranean streets and Rebus suspects the involvement of sectarian activists.
The prospect of terrorism in a city heaving with tourists is unthinkable.
Information
Format: Paperback
Pages: 704 pages
Publisher: Orion Publishing Co
Publication Date: 01/12/2001
Category: Anthologies (non-poetry)
ISBN: 9780752846569
Free Home Delivery
on all orders
Pick up orders
from local bookshops
Reviews
Showing 1 - 3 of 3 reviews.
Review by sthitha_pragjna
16/06/2015
Review of The Black Book, the second crime mystery in this trilogy of Inspector Rebus:In terms of flow and suspense and quick pace, this -the third Rebus mystery I read- ranks best. It is not formulaic. Duty has put him in charge of a stake-out of a suspected extortionist. His friend and colleague Holmes gets a bump on the head which starts off Rebus's interest in the eponymous Black Book and a five year-old hotel fire. The spirallingly violent plot involves intimidation to Michael Rebus, a frame-up, a life-attempt on Rebus, and a second tragic fire. Eye-witnesses of the old hotel fire, which involved a murder, seem to become exposed in interviews with Rebus which quickly makes them vulnerable to silencing. A seemingly independent thread of an undesirable molester moving into Edinburgh is incorporated cunningly into the main plot. Last, but not the least, who bumped Brian Holmes on his head?
Review by the.ken.petersen
16/06/2015
Phew! This trilogy is rebus at his prime. The three books, Strip Jack, The Black Book and Mortal Causes, fit together well. Not just because they are consecutive adventures, but because they build from the, almost light, story of a corrupt politician through a darker tale of the consequences of a hotel fire on to the pitch black finale.Mortal causes is just about as bleak as it is possible to get: if Leonard Cohen decided to write a crime novel, this would be the outcome. The three novels are bleak, but never voyeuristic: Rankin reports, rather than admonishing, the bigotry and pure evil of some of his characters and this is much more menacing; much more effective than a preaching of the violent underbelly of society which, although I have, so far, been fortunate enough to miss out upon, I am sure exists.
Review by riverwillow
16/06/2015
The fourth, fifth and sixth novels in the Rebus series and each one is a superb read. One of the things I enjoy is how Rebus's character both develops and regresses across these books, which makes him a very believable character.