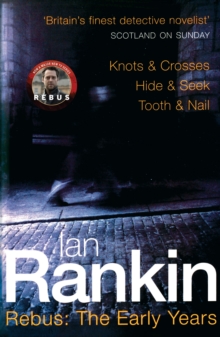 Rebus: The Early Years : Knots & Crosses, Hide & Seek, Tooth & Nail
Paperback
Description
From bestselling Ian Rankin, winner of the 1997 CWA Macallan Gold Dagger for fiction for Black & Blue, come the early Inspector Rebus novels, gathered in one volume for the first time.KNOTS & CROSSES: Two girls have been abducted and brutally murdered.
Now a third is missing. Detective Sergeant John Rebus, his own young daughter spirited away south by his disenchanted wife, is one of the policemen hunting the killer. And then the messages begin to arrive: knotted string and matchstick crosses - taunting Rebus with pieces of a puzzle only he can solve ...HIDE & SEEK: A junkie lies dead in an Edinburgh squat.
Just another addict, until Inspector Rebus begins to chip away at the indifference, treachery, deceit and sleaze that lurk behind the facade of the city familiar to tourists. And only Rebus seems to care about a death that looks more like murder every day, a death that appeals to the darkest corners of his mind.TOOTH & NAIL: Drafted down to the Big Smoke thanks to a supposed expertise in the modus operandi of serial killers, Inspector Rebus is on the trail of a man who, due to his penchant for taking a bite from each of his victims, is known as the Wolfman.
When Rebus is offered a profile of the Wolfman by an attractive lady psychologist, it seems too good an opportunity to turn down.
But in finding an ally, he may have given his enemies an easy means of attack ...
Information
Format: Paperback
Pages: 608 pages
Publisher: Orion Publishing Co
Publication Date: 18/05/2000
Category: Anthologies (non-poetry)
ISBN: 9780752837994
Free Home Delivery
on all orders
Pick up orders
from local bookshops
Reviews
Showing 1 - 2 of 2 reviews.
Review by heidialice
16/06/2015
This is a collection of the first three Inspector Rebus novels, "Knots & Crosses", "Hide & Seek" and "Tooth & Nail". The first two are set in Edinburgh, and the last in London. Each of these three novels is a murder mystery featuring a serial killer.Rebus is a great character: gruff, plain-spoken and mostly silent, just as one has come to expect from a tough police detective. What is interesting about him is that we get a glimpse into his head in a way most crime writers don't bother with. Who is Rebus when he's off-duty? How did he become who he is today? These are questions Rankin answers, and believably. Rankin is also one of those writers who doesn't interfere in his plot -- you can devour page after page, forgetting that the author is there at all. My only quibble is with his pacing (and this was true for all three novels;) he increases the speed throughout until, at the end, I was whipped into such a frenzied pace that I hardly noticed that Rankin was tying up all his loose ends in with the climax, and was left a bit breathless, slightly bewildered, and flipping the pages back to appreciate all the subtleties. This may not be a problem for other readers though!
Review by debavp
16/06/2015
 <b>KNOTS &amp; CROSSES </b>Sheesh—I'm not quite sure what I should make of this. I've heard such high praise for Rankin's Rebus over the years but in reading this first novel, well, it was just short of blah! Rebus is annoyingly boring and for a cop, especially one with SAS training, he seems to flounder helplessly in all aspects of police work.The most minor of character were by far the most interesting. Maybe it was because they had the ability to focus and accomplish, traits that Rebus didn't seem to possess. All is not lost though. While Rankin does write in a style that was a bit unusual for this American reader, it is slightly charming and educational. He takes the reader on an interesting tour of Edinburgh, not afraid of showing the ugly along with the beauty of that very impressive city. For that some of the above complaints are forgiven.<b>HIDE &amp; SEEK </b>Once again it is really difficult to get what Rankin's on about even though this time there was more of a plot, muddled as it were. Rankin gives so little tangibility to Rebus. Holmes and McCall and even "Farmer" Watson have more going for them in the depth department.This time around he didn't give Edinburgh it's due and that I found was the most disappointing of all. <b>TOOTH &amp; NAIL </b>This was the quickest read yet and the best so far of the series. Much better, yet still room for VAST improvement. FINALLY, Rankin lets Rebus seem human and even humorous! While DI Flight came near to being the most interesting character, Rebus pulled ahead by barely a nose. Also, the relationship between the two Inspectors showed without a doubt that Rebus needs a partner, he was so much more interesting and capable when working with someone his equal.While I'll be glad to be rid of Rebus for a bit, this has given me hope that all is not lost. I'll pickup the next in the series in the future.
Also in the A Rebus Novel series | View all