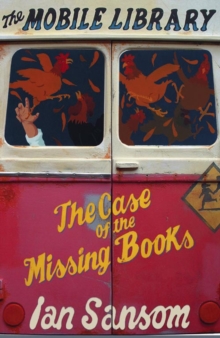 The Case Of The Missing Books
Paperback
Description
Introducing Israel Armstrong, one of literature's most unlikely detectives in the first of a series of novels from the author of the critically acclaimed Ring Road.Israel is an intelligent, shy, passionate, sensitive sort of soul: he's Jewish; he's a vegetarian; he could maybe do with losing a little weight. And he's just arrived in Ireland to take up his first post as a librarian.
But the library's been shut down and Israel ends up stranded on the North Antrim coast driving an old mobile library.There's nice scenery, but 15,000 fewer books than there should be.
Who on earth steals that many books? How? When would they have time to read them all? And is there anywhere in this godforsaken place where he can get a proper cappuccino and a decent newspaper?Israel wants answers...
Information
Format: Paperback
Pages: 336 pages
Publisher: HarperCollins Publishers
Publication Date: 01/02/2006
ISBN: 9780007206995
Free Home Delivery
on all orders
Pick up orders
from local bookshops
Reviews
Showing 1 - 5 of 9 reviews.
Previous | Next
Review by wyvernfriend
16/06/2015
Amusing but not the best book I've read, if he had held back a little in the punishment meeted out to his hero, Israel, it would have been better.A Librarian goes to his post to find that the library is closed and he is supposed to take over the mobile library, however the books have disappeared. Sections of it are interesting and really reflect life in a library.
Review by phoebesmum
16/06/2015
First in a series featuring fish-out-of-water librarian Israel Armstrong, a North London, Jewish vegetarian who accepts a placement in Northern Ireland as the only library work he can get. When he gets there, he's dismayed to find that the library is closed: what he'll actually be running is the mobile library, based in a rusting, decrepit old van, currently garaged in a chicken shed. Worse yet: the books are missing. It's up to whiny, ineffectual Israel, with the help of the pugilistic Ted, the van's driver, to find the books, get the van on the road, and bring literature back to the people of County Antrim.Lively and entertaining, if a bit fixated on poo. Israel is irritating, but not wholly without his good points, and the local population isn't quite entirely made up of stereotypes. Almost, but not quite. Worth seeing how the second book goes.
Review by shiunji
16/06/2015
Don't get me wrong with the rating - I did enjoy the book, eventhough I didn't think it was very good. Some bits of it were the wrong type of kitsch, & characters though of some interest, had very little depth (which to a certain extent is funny because it allows you to extrapolate). The plot also, is a bit thin, but you cannot help yourself smiling at the almost too personally honest swipes it takes at the typical bibliophile/plot conventions at the expense of poor Mr. Armstrong & the Irish. Nutshell: A good light, impersonal read say, to pass time on a bus. Not epiphanical. PS: I also wonder if George is a reference to Famous Five?
Review by lahochstetler
16/06/2015
This book doesn't work. It just doesn't work. Israel Armstrong travels to rural Northern Ireland to become a librarian. He arrives to find that the library has been closed. His job is to drive the bookmobile, but all of the books have been stolen. It becomes Israel's job to search for the books in a place full of bizarre and unfriendly locals. There is so much about this book that doesn't work. Every instance of dialogue goes on for far too long. Israel is an absolutely pathetic character. He mopes around being miserable and refuses to do anything to improve his situation. The ending of the book is hardly an ending at all. This is one of those books that made me feel like I had wasted my time by reading it.
Review by dsc73277
16/06/2015
I've awarded this one a four star rating for entertainment value. Great literature it isn't but I think the author would be shocked if anyone suggested it was. I am sure he set out simply to write a jolly romp that, with a bit of luck, might launch a series and generate sufficient cash flow to pay for his season ticket (rail/soccer/rugger depending on his preference or greatest need). I think he succeeded, though I can appreciate why others would conclude differently. Humour is highly subjective. Most of the television comedy that people rave about leaves me stone cold, and I could well imagine that I would not have liked this as a TV show but in book form there were times when it literally had me laughing out loud. I didn't feel any great affection or sympathy for the hero, or indeed for any of the characters, but it didn't seem to matter. My favourite witty moments were the slogan written on the side of the mobile library - "The Book Stops Here" - and the description of a rather plain and austere Presbyterian church as looking as though the Reformation had occurred within the past fortnight. It would certainly be worth 50 pence if you saw it on a stall at the church fair, though admittedly that probably sounds like damning with faint praise (if one can talk of damning and church fairs in the same sentence), and clearly such a purchase would do nothing to help Mr Sansom obtain that season ticket - neither did I, I picked it up at my local (non-mobile) library!
Also in the The Mobile Library series