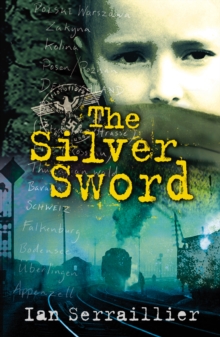 The Silver Sword
Paperback
Description
The classic tale of a journey through war-torn Europe. Alone and fending for themselves in a Poland devastated by World War Two, Jan and his three homeless friends cling to the silver sword as a symbol of hope.
As they travel through Europe towards Switzerland, where they believe they will be reunited with their parents, they encounter many hardships and dangers.
This extraordinarily moving account of an epic journey gives a remarkable insight into the reality of a Europe laid waste by war.
Information
Format: Paperback
Pages: 208 pages
Publisher: Random House Children's Publishers UK
Publication Date: 01/04/2003
Category: Adventure
ISBN: 9780099439493
Other Formats
Hardback from £10.00
Paperback from £5.59
EPUB from £3.99
Free Home Delivery
on all orders
Pick up orders
from local bookshops
Reviews
Showing 1 - 3 of 3 reviews.
Review by ascapola
16/06/2015
Serraillier uses this fictionalised account of three children whose parents are taken away by the Nazis to reveal some of the horrors of war, albeit very mildly. It did get me thinking about a topic not often covered - the fate of children in war zones, both in WW2 and today.The story follows the three children's attempts to survive in a destroyed city and their determination to keep together and find their parents. A chance encounter with a young boy, Jan, gives them hope when they realise that Jan had meet their father and was safekeeping the 'silver sword'.Whilst based on a selection of true incidents, there are too many coincidences and the children have litle depth. A good story, but its feel is dated.
Review by rata
16/06/2015
This book is a good fictional story of the struggle that the Poles and Jews faced during World War 2 without being too descriptive. It is good for 8-10 year olds to give them a glimpse into this historical event without all the nasty bits and i feel that Serallier has done this well. I woudl defintely read this to our year 7 -8 students. It is about a Polish family (Belecki) who are separated during the the German invasion of Warsaw. The father is carted off and the mother is also carted off by German soldiers during the night, leaving her 3 children to fend for themselves. Their house is bombed and they became refugees like so many polish people during this war. The story glimpses in and out of events that happened during this time as the children, along with a refugee Jan, make their way to Switzerland to be reunited with their father. Upon meeting Jan they find that he has in his posession a silver sword (letter opener) that was given to Jan by the children's father. Seeing this sword reinforces with the children that their father is alive and it is this that keeps their spirits up as they make their way to Switzerlan. A tale of heroism, self belief, moral values.
Review by Eyejaybee
16/06/2015
It is more than forty years since I last read this novel, which was one of my favourites as a child. I hadn't even thought about it in decades, but someone mentioned it a few days ago, and prompted me to re-read it. What a delight it proved.The book tells of the travails of the Balicki family from Warsaw. The father, Joseph, headmaster of a local school, is imprisoned by the Nazis after someone reports him for turning the photograph of Hitler that he had been required to hang in his classroom to face the wall. Shortly afterwards his wife, Magrit, is also interned, leaving their three children (Ruth, Edek and Bronia) to fend for themselves.After a couple of years Joseph manages to escape from his prison and returns to Warsaw to look for his family. He finds the family home reduced to rubble. Aghast he delves down to see if he can unearth any trace of the family but all he finds is a paper knife, in the shape of an elaborate small silver sword that he had given to his wife several years earlier. While staring in disgust at the remains of the house he becomes aware that he is being watched by a young boy, Jan, clutching a cat while. After a brief conversation (during which the young boy successfully picks Joseph's pockets) Joseph hands over the silver sword to Jan in return for a promise that he will do whatever he can to find a trace of Magrit or the children. Jan stows the sword away in a wooden box in which he keeps all of his dearest treasures (which include, among other things, the shrivelled body of a dead lizard). Joseph explores the remaining streets of the community searching for clues as to what might have happened to his family. Finding no trace he decides to head for Switzerland (where Magrit came from), in the belief that she would have tried to flee there to escape their oppressors.Meanwhile the three children have been fending for themselves until Edek is arrested by the Nazis for smuggling food to be sold through the black market. Ruth starts running an informal school to try to teach some of the Polish children, and eventually Jan comes to join them - by now his cat has gone, to be replaced by Jimpy, a cockerel. By chance the three children find that Jan has the silver sword which they immediately recognise. Jan explains how he came by it, adding that Joseph had told him about his plans to seek his family in Switzerland. The story then deals with the children's exploits firstly to locate Edek, and then to try to cross Poland and then Germany to try to reach Switzerland.The book is now recognised as a children's classic, though on its publication in 1956 there was a lot of criticism suggesting that the novel dealt with subjects too serious for younger readers. This seems odd nowadays - after all, Serraillier weaves a very sound plot and his characters are finely drawn. Even though the context may now seem very remote to today's children, surely this is exactly the sort of books that they should be reading. It holds up excellently for an adult audience, too.