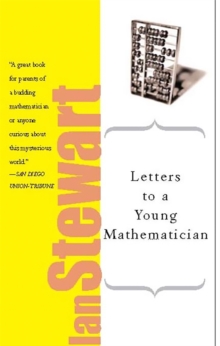 Letters to a Young Mathematician
Paperback
Description
Mathematician Ian Stewart tells readers what he wishes he had known when he was a student.
He takes up subjects ranging from the philosophical to the practical-what mathematics is and why it's worth doing, the relationship between logic and proof, the role of beauty in mathematical thinking, the future of mathematics, how to deal with the peculiarities of the mathematical community, and many others.
Information
Format: Paperback
Pages: 224 pages
Publisher: INGRAM PUBLISHER SERVICES US
Publication Date: 27/03/2007
Category: Philosophy of mathematics
ISBN: 9780465082322
Free Home Delivery
on all orders
Pick up orders
from local bookshops
Reviews
Showing 1 - 3 of 3 reviews.
Review by _Zoe_
16/06/2015
As the title suggests, this book is written in the form of letters to a "young mathematician", offering advice and generally discussing what mathematics is and what it means to be a mathematician. The back cover promises that it "tells readers what world renowned mathematician Ian Stewart wishes he had known when he was a student", and I was intrigued because I had a mixed experience with mathematics in university and always wondered what I could have done differently.I have to say, my experience with this book was also mixed. First of all, lest the title mislead, I think it's actually more suited for a general non-mathematical audience than for someone who's actually in the process of becoming a mathematician--which wasn't a problem for me, since I read it for general interest and not as an aspiring mathematician.Stewart raises a lot of interesting points here, but he often doesn't discuss them in as much detail as I would have liked. I think this is part of a series, and it was probably a requirement that the book be barely 200 pages long, but there are times when a bit more depth would have been nice. It was good in a way that the book left me wanting more, and it did include references to other interesting reading throughout, but it wasn't quite satisfying enough in itself. Many people will probably appreciate the brevity, though.A more serious concern for me was the fact that I just didn't agree with some of his more important points. I know, he's the mathematician and I'm not, but still. The book got off to a bad start, in my mind, with the initial chapter entitled "Why Do Math?". Stewart's reason, briefly, is that math is everywhere. There's a bit too much focus on the utility and not enough on the beauty of it. The same is true even in his chapter on proofs: "it would be silly to suggest that this agreement [with experiment to an accuracy of nine decimal places] is an accident, and that no physical principle is involved.... [but] it is equally silly not to try to find out the deep logic that justifies the calculation. Such understanding... will surely advance mathematics." So even proofs are presented not as necessary, but merely as useful (a view that he steps back from slightly in the following chapter, but to my mind, the damage was done).Another point that left me wondering is his claim that not everyone can be a mathematician, because "originality is one of those things that you either have or you don't." I really appreciate the fact that he expressly disagrees with the politically-correct view that everyone can be good at everything, but I think he simplifies the issue a bit too much. In particular, I'm just not convinced that originality is the key. He compares it to the attempt of a tone-deaf person to become a great musician, but there's nothing in there to make me think that creativity is the problem rather than some more basic musical/mathematical aptitude. His explanations about how he excelled at math without effort from the time he was 10 didn't convince me either; the mathematics that one does at age 10 is so different from "real" mathematics that it can barely be called the same subject. Creativity certainly isn't the main factor there. I wonder whether Stewart's various unconvincing arguments are a direct result of the book's extreme brevity; maybe I would have been more convinced if he had elaborated his position further.On the other hand, I think the fact that I have so much to say about this book speaks in its favour. Regardless of whether I agree with everything Stewart says, he makes plenty of interesting and provocative points in a short space. And there's a fair bit of humour, too, including a whole chapter on what not to do as a tenure-track professor that consists mainly of humorous anecdotes about various mishaps ("I was once abandoned inside a Dutch mathematics building when my hosts went off to the parking garage to go to a restaurant. I had to make my escape through a window, setting off a burglar alarm.") So in the end, I think I would cautiously recommend this book, as long as you don't take Stewart's views as the be-all-and-end-all when it comes to what mathematics is.
Review by jmegawarne
16/06/2015
This book was an pleasant-enough, casual read, full of reminders as to why mathematicians are so taken by their discipline. However, it is not a life-changing book for the experienced reader, and I suspect it is not meant to be. It is more of a single-serving pep talk than a multi-dip inspirational, one perhaps to be read by mathematics students around the late high school age. Stewart's self-congratulatory tone, while perhaps rooted in fact, can become a little grating, particularly when he downplays the role of teaching and nurture in favour of "talent."Despite these minor annoyances, his advice is largely sound and valuable, and so this book lives up to its promise — to encourage young mathematicians to press further and embrace the field.
Review by mapalumbo
16/06/2015
Searching for a reflective memoir, I perused Ian Stewart's Letter's to a Young Mathematician and found some great advice. Stewart writes letters of advice to a fictional "Meg" as she journeys from high school mathematics through work at a University. Stewart has a great writing style and his letters are very personal. He has mild success at being cute and funny. He uses an English vernacular that is not common in the U.S. I actually read this text with a British accent in my head. "We were all shoving each other around – but it saved my mathematical bacon."This is a great example of how nonfiction can be exciting and catchy. I wanted to read more about his experiences. I wanted to keep turning the page. Stewart writes not only of his own experience with mathematics in today's world, but also of historical mathematicians like Godfrey Hardy and Thomas Midgley, Jr. The book comes with a section of notes and references in the back as well as a blurb about the author. The content was attractive, the style was easy, and the organization was chronological. This will be a great addition to a mathematics library overflowing with exercise and puzzle books.