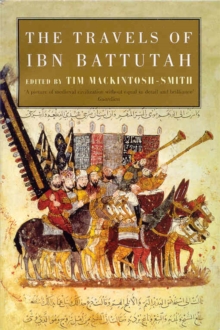 The Travels of Ibn Battutah
Paperback
Description
He did not return to Morocco for another twenty-nine years, travelling instead through more than forty countries on the modern map, covering seventy-five thousand miles and getting as far north as the Volga, as far east as China and as far south as Tanzania.
He wrote of his travels, and comes across as a superb ethnographer, biographer, anecdotal historian and occasional botanist and gastronome.
With this edition by Mackintosh-Smith, "Battuta's Travels" takes its place alongside other indestructible masterpieces of the travel-writing genre.
Information
Format: Paperback
Pages: 400 pages, map
Publisher: Pan Macmillan
Publication Date: 01/06/2003
Category: General & world history
ISBN: 9780330418799
Free Home Delivery
on all orders
Pick up orders
from local bookshops
Reviews
Showing 1 - 2 of 2 reviews.
Review by thorold
16/06/2015
An abridged translation that has featured in a television programme: that gives you three good reasons to avoid a book. However, Tim Mackintosh-Smith's programmes on BBC Four did arouse my interest in Ibn Battutah, if not quite to the extent that I would splash out on a multi-volume scholarly edition of the <i>Travels</i>. Arabic not being a language I can read, Mackintosh-Smith's paperback abridgement of the Gibb translation looked like a good way to get a feel for what Ibn Battutah was all about. Obviously, you never know in an abridgement what you've missed out on. What we get here is certainly entertaining and enjoyable, without much in the way of tedious repetition, so I suspect that Mackintosh-Smith has selected quite wisely. In the later parts of the book there is an occasional jerkiness in the narrative that leaves you wondering whether it comes from an acceleration in the pace of Battutah's description as he got nearer to the end of his travels, a tiring of the pen of his amanuensis and editor Ibn Juzayy, or an increased willingness to cut by the modern editor. Another complicating factor is clearly the translation Mackintosh-Smith is working from, done over a period of seventy years by Professor Gibb and his successors. The tone seems to shift a bit from rather baroque Edwardian in the early chapters to a more neutral academic English later in the book.As seen through the lens of this book, Ibn Battutah is a lively and entertaining travelling companion: it isn't at all difficult to transpose yourself into his way of looking at the world, and share his surprise and pleasure at the strangeness of the many new places he visits on his epic journey. One of the things that makes him so sympathetic, as Mackintosh-Smith points out, is the modernity of his approach to travelling: he hops from place to place "with the dedicated aimlessness of a New Zealand back-packer", joining a caravan or getting on a boat simply because it's going somewhere he hasn't been before. Unlike the back-packer he isn't reliant on his parents for cash: as a <i>qadi</i> he can find work anywhere where Islam is practiced and Arabic spoken; as a distinguished guest he expects (and gets) lordly presents from the local rulers he visits.Because we feel we can identify with him in his capacity as super-tourist, it is rather alarming when something happens to remind us that 14th century Islamic travellers are not "New Zealand back-packers". We are shocked by Ibn Battutah's casual references to buying slave-girls (virgins or otherwise), or to the many temporary marriages he makes and dissolves along the way: when he leaves town he simply divorces the girl and returns her to her parents together with the dowry. None of his wives is ever mentioned by name. In the Maldives he praises the climate and the local women for their sexually stimulating effect (despite four wives and an unspecified number of concubines his strength is undiminished), but practically with the same breath he fulminates against the women's refusal to dress in the modest fashion prescribed by law and sentences a couple to a beating for adultery.But he's not some sort of monster - in his various illnesses and ailments he's endearingly human, and when he sees something really unpleasant (the dismembered corpses of prisoners outside the hall of an Indian sultan, for instance), he's as revolted as we would be.I read this shortly after reading Barbara Tuchman's view of Europe in the 14th century in <i>A distant mirror</i> &amp;mdash; it is really striking comparing her picture with Ibn Battutah's how much bigger and more mobile the Islamic world was at that time than (Western) Christendom.
Review by Icefirestorm
16/06/2015
A facinating incite in to the world of the 1300's from the viewpoint of a contemporary traveler. I would not recommend this for younger readers, as some of the customs and practices of the time were quite disturbing. The narrative could be very dry in places, and required a determination to work through. My final conclusion though, is that this book is a good read for the mature history buff, and I am glad to have it in my library.
Also by Ibn Battutah