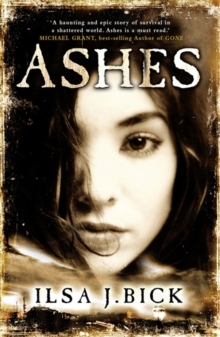 The Ashes Trilogy: Ashes : Book 1
Paperback
Description
Alex has run away and is hiking through the wilderness with her dead parents' ashes, about to say goodbye to the life she no longer wants to live.
But then the world suddenly changes. An electromagnetic pulse sweeps through the sky zapping every electronic device and killing the vast majority of adults.
For those spared, it's a question of who can be trusted and who has changed...
Everyone still alive has turned - some for the better (those who acquired a superhuman sense) while others for the worse (those who acquired a taste for human flesh).
Desperate to find out what happened and to avoid the zombies that are on the hunt, Alex meets up with Tom - an Army veteran who escaped one war only to find something worse at home - and Ellie, a young girl whose grandfather was killed by the electromagnetic pulse.
This improvised family will have to use every ounce of courage they have just to find food, shelter, while fighting off the 'Changed' and those desperate to stay alive.
A tense and involving adventure with shocks and sudden plot twists that will keep teen and adult readers gripped.
Information
Format: Paperback
Pages: 352 pages
Publisher: Hachette Children's Group
Publication Date: 01/09/2011
Category: Thrillers (Children's/YA)
ISBN: 9780857382627
Free Home Delivery
on all orders
Pick up orders
from local bookshops
Reviews
Showing 1 - 3 of 3 reviews.
Review by Bellydancer
16/06/2015
With a fatal form of brain tumour and feeling like she has nowhere left to turn; seventeen year old Alex decides to hike into the woods to say good-bye to her dead parent's ashes. Then out of nowhere she starts to feel a pain, like nothing she has ever felt before; it was like a laser had scorched her brain; an electromagnetic pulse had flashed across the sky, destroying every electronic device, wiping out every computerized system, and killing billions.Alex meets up with and Ellie, a girl whose grandfather was killed by the EMP and takes her under her wing. But with the world gone crazy the girls run into a pack of dogs and are in more danger than they realise, luckily Tom a former soldier come to their rescue. Together they begin a journey more terrifying that they would have ever imagined.I loved this high energy novel from the outset. It is good so read a book that is one 'out of the box'.Author Ilsa J. Bick has given us the first book in a terrifying and thrilling series. I can not wait to read book two.
Review by wyvernfriend
16/06/2015
Alex is hiking through the wilderness, wondering what to do next with what's left of her life. A cancerous tumour is taking over her brain and she's not sure what to do, the treatments haven't worked. And then an electromagnetic pulse destroys modern civilisation, and changes some people's brains, making them into zombies. Alex is going to have to do something with her life, she recovers and gains a sense of smell. There are a lot of twists and turns in this story and I found it very interesting, I'm not a fan of zombie stories but this one sucked me in and kept me reading.
Review by BookLoversLife
16/06/2015
Ashes starts really strong. Alex hikes into the woods when she meets Ellie, an 8 year old girl, and her grandpa. While she is talking to them she suddenly feels a tremendous pain and pressure in her head. Ellies' grandpa keels over with blood spurting out of his ears and mouth. Alex sees birds falling from the sky and the deer acting strange. Alex and Ellie have to get out of the woods to find help. They decide to head to the rangers station further up the mountain. Along the way they stumble on some teenagers eating a person, they are freaked and quickly run away. They meet up with Tom when he saves them from a zapped teenager that tries to eat them. Tom is Army and tells Alex he reckons it was an electromagnetic pulse or something like that and isn't just happening here.<br/>Ilsa Bick draws you into a world that is bleak and what people are left will do anything for survival. The first time Alex sees the Zapped kids is one of the gruesomest, goriest, scariest, heart pounding, nail biting parts. The author isn't afraid to describe exactly what was happening. She pulls you into the scene and you are on the edge of your seat waiting to see what happens. Alex is such a likeable character. Despite what is happening with her she tries everything to keep Ellie safe even with Ellie being a typical 8 year old and making nothing easy. She is a very scared little girl and Alex does all she can to make sure Ellie is OK.<br/>Then they meet up with Tom and he makes the girls feel protected and safe. He is so good and kind with Ellie and helps Alex learn to defend herself. He is a really strong character.<br/>In this Post Apocalyptic time Alex, Ellie and Tom have to deal with Zapped kids, raiders, savage dogs and trying to survive. Ashes read like a typical post apocalyptic book and then bam the author throws something else into the mix. Something happens half way through and Alexs journey isn't the same. From then on its twists and turns and you honestly don't know what will happen. Ashes is a action packed, scary, heart stopping story and Im really look forward to seeing what happens to these characters and Im glad I can dive into book two because with the ending of book one I was like NOOOOO!!
Also in the The Ashes Trilogy series | View all