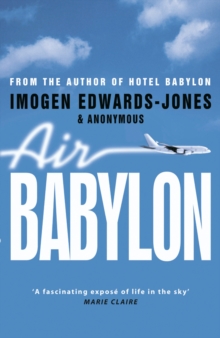 Description
Heard the one about the airline that has introduced 'corpse cupboards' on new planes to cope with the number of people who die in the air?
Heard the story about the First Class air hostess who got fired for sitting on the face of a passenger during a long haul flight?
Heard about the amount of knickers and false teeth that are left behind in the body of the plane?
Heard how pissed-off stewards put laxatives in your drinks?
Heard about the pilot who ran out of runway? Heard of the disabled passengers who miraculously walk again?
No? Then you haven't read Air Babylon. Do you know the best place to have sex on a plane? Do you know how to dress for an upgrade? Do you know that one drink in the air equals three on the ground?
Do you know who is checking you in? Who is checking you out? Do you know exactly what happens to your luggage once it leaves your sight?
Is it secure? Are you safe? Do you really know anything about the business that you entrust your life to several times a year?
Air Babylon is a trawl through the highs, the lows, and the rapid descents of the travel industry. It catalogues the births, the deaths, the drunken brawls, the sexual antics, and the debauchery behind the scenes of the ultimate service industry - where the world is divided into those who wear the uniform and those who don't...
Information
Format: Paperback
Pages: 416 pages
Publisher: Transworld Publishers Ltd
Publication Date: 01/07/2006
Category: True stories
ISBN: 9780552153058
Free Home Delivery
on all orders
Pick up orders
from local bookshops
Reviews
Showing 1 - 5 of 5 reviews.
Review by Seajack
16/06/2015
Twenty-four hours in the life of an airline employee. As with <i>Hotel Babylon</i>, which I'd read already, the author weaves a fictional composite story based upon experiencies of her "sources" in a given industry. The first part -- at the airport itself -- was pretty intersting; the second -- a flight to Dubai featuring the narrator and his employee friends -- was a bit over-the-top for me.
Review by Lazy_Lauren
16/06/2015
A fascinating and sometimes shocking insight into the secrets of the airline industry. I have not read Hotel Babylon, but after reading this book, I think I may have to!Very revealing (and slightly worrying!) for the seasoned traveller.
Review by skullstuffing
16/06/2015
Another 24 hours with nameless narrator, this time an airline terminal manager, but again a witness to the worst of human behaviour, animal smuggling, suicide attempts and sexual exploits. The beauty of Ms E-J's writing is her ability to sketch characters so hastily but so accurately. Another one for that rainy weekend.<br/>
Review by skinglist
16/06/2015
I really enjoyed this, better than I expected to from some of the reviews. It's fluff, but I think that's the point. Have also read [Hotel Babylon]], Beach and Fashion are on Mt. TBR
About four years ago I read Hotel Babylon, and upon learning of the existence of an Air Babylon I figured I would give it a shot. The idea behind the *-Babylon series of books is pretty much "look-how-stuff-works-behind-the-scenes-isn't-it-outrageous". Supposedly, all the events in the books are based on true stories told to the author by "Anonymous": people from within the industries whose names and employers cannot be divulged "for legal reasons". In Air Babylon all the events recounted to the author by Anonymous are compressed into a single 24 hour day of a single airport employee. Unfortunately this artificial intensity of weird stuff just makes everything feel a little absurd. This is a problem in a book that ultimately relies on being believable enough to 'shock' the readers with real-life events. The book presents itself as being a bit of an exposé, but ends up seeming like a collection of anecdotes about things that happen infrequently enough not to really be at all shocking, or even surprising.The story itself necessarily becomes a contorted coat-hanger on which every juicy anecdote grapples for space. The reader follows an airport supervisor and his colleague, Andy, during a workday at the airport and then eventually onto a flight as they head to Dubai to celebrate Andy's birthday. Along the way they encounter a gallery of other forgettable caricatures. The birthday in Dubai becomes an excuse to emphasise all the drugs, sex, and apparently endless partying everyone involved in the airline industry gets up to all the time, something the reader is liberally reminded of throughout the book. Unfortunately this, and everything else with a racy angle to it, is emphasised to the point where it becomes annoying. Not quite to the extent that I feared, but still more so than I'd like. Oh, and on the off chance that anyone starts actually caring for the characters, there is also a laughably predictable love story that allows everyone to go home with a smile on their face.I have to say though, Air Babylon isn't a terrible book. It held my interest, if only for the occasional airport and airline trivia which just about manages to hold its head above the frequent debauchery. Unfortunately it didn't come close to shocking or scaring me. There is plenty of stuff that probably should have shocked me, but it didn't. It's not even a matter of me doubting it's authenticity. Everything is just presented in a much too silly manner for me to take it seriously. Ultimately, I had relatively low expectations and the book met them.