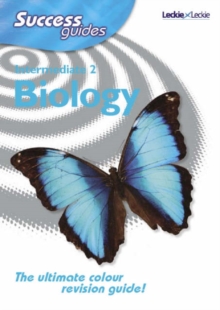 Intermediate 2 Biology Success Guides
Paperback
Description
This title delivers a highly visual approach to revision.
Key information on the three course units is delivered in a clear, brightly coloured format which will appeal to a variety of learning styles.
In addition, Quick Tests and Top Tips help to focus study, whilst colour diagrams help to improve subject recall.
A separate unit on Exam Skills and Support is also included to sharpen exam performance. Contents Unit 1: Living Cells * Cells * Useful cells 1 and 2 * Diffusion * Osmosis * Enzymes * Enzyme activity * Experiments with enzymes * Energy release * Aerobic and anaerobic respiration * Photosynthesis: two reactions * Factors affecting photosynthesis Unit 2: Environmental Biology and Genetics * Ecosystems: food chains and food webs * Ecosystems: energy loss * Ecosystems: variety of species * Ecosystems: animal behaviour * Fertilisation * Chromosomes and DNA * Division of the nucleus * Genes and alleles * Monohybrid crosses * More about inheritance * Natural selection * Selective breeding * Genetic engineering Unit 3: Animal Physiology * Food * Food tests * Digestion * Alimentary canal 1, 2 and 3 * The kidney * Osmoregulation * Blood * Blood vessels * The heart * The lungs * The nervous system * The brain * Temperature regulation Exam Skills and Support
Information
Format: Paperback
Pages: 96 pages, colour photographs & illustrations
Publisher: Leckie & Leckie
Publication Date: 01/10/2006
Category: Educational: Biology
ISBN: 9781843723813
Free Home Delivery
on all orders
Pick up orders
from local bookshops