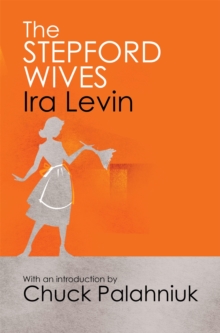 The Stepford Wives : Introduction by Chuck Palanhiuk
Paperback
Description
The women of Stepford are not all that they seem...
All the beautiful people live in idyllic Stepford, Connecticut, an affluent, suburban Eden populated with successful, satisfied hubbies and beautiful, dutiful wives.
For Joanna Eberhart, newly arrived with her husband and two children, it all seems too good to be true - from the sweet Welcome Wagon lady to all those cheerful, friendly faces in the supermarket checkout lines.
But just beneath the town's flawless surface, something is sordid and wrong - something abominable with roots in the local Men's Association. And it may already be too late for Joanna to save herself from being devoured by Stepford's hideous perfection.
Information
Format: Paperback
Pages: 160 pages
Publisher: Little, Brown Book Group
Publication Date: 20/11/2007
ISBN: 9781849015899
Free Home Delivery
on all orders
Pick up orders
from local bookshops
Reviews
Showing 1 - 4 of 4 reviews.
Review by elliepotten
16/06/2015
"That's what she was, Joanna felt suddenly. That's what they all were, all the Stepford wives: actresses in commercials, pleased with detergents and floor wax, with cleansers, shampoos, and deodorants. Pretty actresses, big in the bosom but small in the talent, playing suburban housewives unconvincingly, too nicey-nice to be real."I wasn't THAT impressed by this book, I have to say. I mean, I enjoyed it and all, but I imagine I'd have enjoyed it a lot more if I didn't already know the plot and the twist and everything else that makes it so interesting. And unlike Psycho, which I read recently, I really DID know the plot, because I already shamelessly adore the Nicole Kidman movie. Of course, the movie is very different - the ending has been changed, the oddness of the women is far more evident, it's funnier, and the whole thing has been brought right up to date - but the basic plot and characters are still the same...Sooooo, it's about a fiercely independent feminist and photographer called Joanna Eberhart, who moves to idyllic Stepford with her husband Walter and their two children. Unfortunately for Joanna, most of the beautiful local women seem to be interested in nothing but waxing their floors and cleaning their windows, while their husbands spend their evenings up at the imposing Men's Association. It's quite a relief when she meets earthy, wisecracking fellow newbie Bobbie. As the pair try to stir some kind of interest in women's affairs amongst their bland neighbours, and Joanna delves deeper into the town's past, they begin to suspect that there's something very wrong with the Stepford wives... The novel definitely raises big questions about feminism, male backlash, the role of a wife and mother and even pokes itself into the issue of scientific ethics - but it didn't really feel as powerful as I expected. It didn't help that it was so short - flattening the characters somewhat - and that I was actually quite irritated by Joanna a fair amount of the time. What WAS a delight was finding that Bobbie was just as smirk-inducingly funny in the book as in the new movie, even if her sharp wit is slightly less rude in the original! I'm glad I finally read it, just because it's another one of those books that has ingratiated itself into popular culture and vocabulary so completely, but I don't think I'd read it again. I want to watch the movie again now though, and the original film too!Bonus points: for the introduction by Chuck Palahniuk, in which he points out that while feminism was at its height in the 70s when this book was written, these days voluntary Stepford Wives are everywhere - painted and crimped on magazine pages, exulting their inner domestic goddess on cookery programmes, and harbouring ambitions to marry a rich footballer. These days women are more likely to read about how to please men and dress well in Cosmo than they are to read news and politics. He discusses the way older women are now more of a threat to young women than men, citing The Devil Wears Prada and the remake of The Stepford Wives as examples in popular culture. His conclusion probably said more to me as a modern woman than the rest of the book:"Now everyplace is Stepford, but it's okay. It's fine. This is what the modern politically aware, fully awake, enlightened, assertive woman really, really, really wants: a manicure. We can't say Ira Levin didn't warn us."
Review by foolplustime
16/06/2015
First thing: Chuck Palahniuk needs to read books before he gives out about them - there are many complaints to be made about the Shopaholic books, that they are about a woman trying to get a man is not one of them. Second thing, this was really good and I'm mainly annoyed that was too familiar with the book before reading to have enjoyed it properly. I may revise the score upwards on a re-read some time in the future.I'll certainly be looking out other Ira Levin books.
Review by shanaqui
16/06/2015
The Stepford Wives left me with a nasty squirmy feeling inside. It's a famous story, so of course I knew the basics already, but somehow the matter-of-fact delivery just really unsettled me. Maybe what unsettled me most was following a couple of links and finding out that people take it quite literally, or the explanation of the male protagonist masturbating to the idea of killing his wife and replacing her with a robot. Ughh. Really the creepiest thing is that this feminist, decent-seeming guy... even he gives in to this idea.The first thing to bother me, though, was Chuck Palahniuk's introduction. Here's a bit from it:<blockquote>"This is seems is progress: women may now choose to be pretty, stylishly dressed, and vapid. This is no longer the shrill, politically charged climate of 1972; if it's a choice freely made, then it's... okay."</blockquote>Which, yes, Mr Palahniuk, it is. If it's really a freely made choice, then I will support any woman's decisions about her own body, her own life. It's none of my business. Funnily enough, it seems like you still think women's bodies are your business, that women's careers must meet your standards.Now, if you look at it from the angle that it's incredibly difficult to make a free choice in this society, then I'd agree. It's entirely true that there are still men like Ira Levin's Dale Coba, still men who want women to be nothing more than dolls, and men who will force women to be nothing more than dolls. It's true that just earlier this week someone was berating me in one of the Coursera forums and saying that women just can't think scientifically, etc, and that the West is "feminised" and... There's all kinds of stupid ideas still out there. That's all true.But even the pretty, stylishly dressed and vapid among us have inner lives, unlike Ira Levin's Stepford women.
Review by Nataliec7
27/08/2015
I really enjoyed this book. I read it in 2 sittings in one afternoon. Its nice and short so only took me just over 2 hours. The introduction by Chuck Palahniuk is good, gives a lot of information and actually told me pretty much what was gonna happen in the book.<br/>I like the way its written, the way the characters change, the setting, the plot and the ending. A good first read of Ira Levin for me.