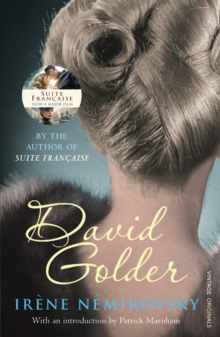 Description
Translated by Sandra Smith, with an introduction by Patrick Marnham.
In 1929, 26-year-old Irene Nemirovsky shot to fame in France with the publication of her second novel David Golder.
At the time, only the most prescient would have predicted the events that led to her extraordinary final novel Suite Francaise and her death at Auschwitz.
Yet the clues are there in this astonishingly mature story of an elderly Jewish businessman who has sold his soul.
Golder is a superb creation. Born into poverty on the Black Sea, he has clawed his way to fabulous wealth by speculating on gold and oil.
When the novel opens, he is at work in his magnificent Parisian apartment while his wife and beloved daughter, Joyce', spend his money at their villa in Biarritz.
But Golder's security is fragile. For years he has defended his business interests from cut-throat competitors.
Now his health is beginning to show the strain. As his body betrays him, so too do his wife and child, leaving him to decide which to pursue: revenge or altruism?Available for the first time since 1930, David Golder is a page-turningly chilling and brilliant portrait of the frenzied capitalism of the 1920s and a universal parable about the mirage of wealth.
Information
Format: Paperback
Pages: 176 pages
Publisher: Vintage Publishing
Publication Date: 01/02/2007
ISBN: 9780099493969
Free Home Delivery
on all orders
Pick up orders
from local bookshops
Reviews
Showing 1 - 2 of 2 reviews.
Review by SqueakyChu
16/06/2015
One thing that struck me right from the beginning of this book was how nasty all of its characters were! The story begins with David Golder, a wealthy Jewish businessman living in Paris, telling his former colleague that he no longer wants to do business with him nor help him financially in any way. David Golder loves money and the power that money brings. David's wife Gloria loves the jewels that David's money can buy but pretty much doesn't like anything else about her husband. David's daughter likes …you guessed it…David's money! Now what in the world would make anyone want to read this book? First of all, it's by Irene Nemirovsky, the author of the highly acclaimed Suite Francaise. She has a way of describing characters that make you want to keep reading. This is the issue, though. The main characters in this book are pretty much annoying if not outright despicable. They're all Jewish. Interestingly enough, Irene Nemirovsky was a born Jew who later converted to Catholicism. While reading this book I kept wondering why the author made all of the Jewish characters so hateful.The story read like a fairy tale. Each of its characters was so predictable that, as a reader, I was urged along to see what would happen in the end. Would they all perish from greed? Would they meet a horrible fate to befit the way they treated each other? That was the grab. It simply pulled me along because I wanted to know.
Review by pokarekareana
16/06/2015
This book left me a bit cold; I thought Suite Francaise was beautiful, and so I had high expectations for this one. It was very well written, and I don't think it helped that I recently read Pereira Maintains; this reminded me of that, and I was constantly comparing the two. I feel that this book was put there to teach me a lesson; just because an author writes one superb book, this doesn't mean that it is helpful or satisfying to assume that all their work will move you to the core of your being in the same way. Consider me told!