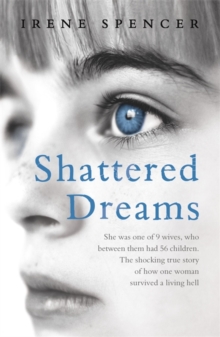 Shattered Dreams : Surviving the Hell of a Polygamous Marriage
Paperback
Description
Irene Spencer grew up in a fundamentalist, polygamous Mormon village in Arizona.
The thirteenth of thirty-one children, she grew up in abject poverty and isolation, and was taught that she should never question the church leaders.
Her mother, unable to cope, left her children and three 'sister-wives' with her abusive husband.
Desperate to escape her violent home, and believing she had no choice but to live by 'the Principle', at sixteen Irene found herself in a plural marriage, sharing her husband with her half sister.
When the government raided her village, she fled with Verlan, numerous other wives and countless children to a ranch in Mexico where Verlan's brother, a self-proclaimed prophet, was attempting to found a new Mormon colony.The strains of husband-sharing with - ultimately - nine other wives were unbelievably hard.
Irene's story provides a fascinating insight into polygamous marriage - the squabbles and the jealousy, and the agony of watching your husband choose other wives over you.
They lived with divided loyalties in unremitting deprivation - struggling to maintain so many households and to bring up 56 children.Irene eventually escaped with her children and made the bold step into the outside world and into a freedom she never knew existed.
Irene has led a truly extraordinary life and her harrowing story will appall and astonish, but in the end her courage and determination to find a better life for her 13 children is incredibly inspiring.
Information
Format: Paperback
Pages: 400 pages
Publisher: Hodder & Stoughton General Division
Publication Date: 24/07/2008
Category: Autobiography: general
ISBN: 9780340963616
Free Home Delivery
on all orders
Pick up orders
from local bookshops
Reviews
Showing 1 - 2 of 2 reviews.
Review by Moniica
16/06/2015
Synopsis: Irene lived most of her life as a fundamentalist Mormon in a sect that promotes polygamy, married to a man who had six other wives and not enough money. Having to look after her 9 children, plus all the wives other 40 children on some occasions in whatever cheap accommodation they could build - often without electricity - made her worn down and depressed, and she started to think if this life was really worth the "celestial glory" it was supposed to bring after all.My Opinion: Such an amazing and inspiring book. It was really interesting to read about such a cult and what keeps them going. I hope others who read this are encouraged to avoid living this lifestyle.
Review by Marlene-NL
16/06/2015
Finished reading last night. <br/>I thought it was a good book but compared to for instance Escape by Caroline Jessop this woman had a great life! At least her husband tried and my Gosh she was a complainer especially compared to the other wives.<br/>Complaining complaining but every time caving in. <br/><br/>Because it interests me the Mormons religion and especially those of the fundamentalists I've read a lot of books. These people the only thing they do is make kids and a lot of them live from the governments and the taxpayers while they despise these taxpayers cause they are lesser people. <br/>They raise there children and brain wash them into thinking they will go to hell if they do not live according to there religion.<br/><br/>The problem with Mormons is that every man can say what he wants and pretends God told him that, and as with islam this is a great religion for men but not for women. <br/>