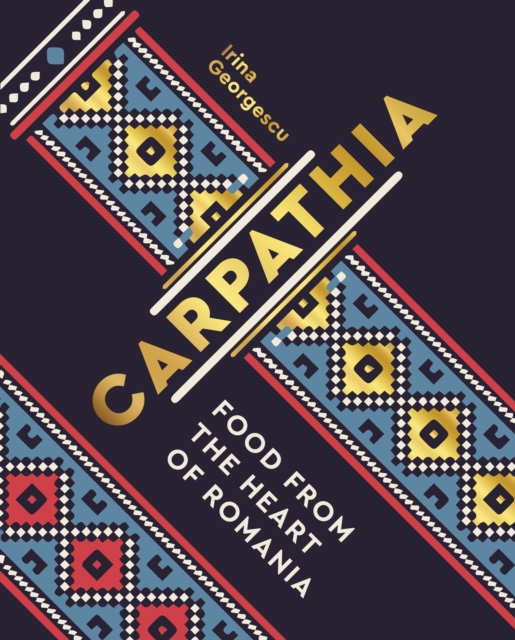 Carpathia : Food from the heart of Romania
Description
"Imbued with generosity, the spirit of community, and the flavours of a rich and varied culture" -NIGELLA LAWSONCarpathia invites you to explore Romania's unique, bold and delicious cuisine: an exciting and unexpected amalgamation of all its diverse influences. As a cultural melting pot its character is rooted in many traditions from Greek, Turkish and Slavic in the south and east, to Austrian, Hungarian and Saxon in the north and west.    From chargrilled aubergines, polenta fritters and butterbean hummus, to tangy borş, stuffed breads and Viennese-style layer cakes, Irina Georgescu has created over 100 mouth-watering dishes that are easy to make and a joy to share. Delicious dishes to be found inside include: Small plates, starters and salads such as aubergine caviar with red onion and fennel seeds or chargrilled pepper salad with garlic vinaigrette;  Breads and streetfood bakes like traditional Romanian covrigi or a delicious mushroom and mincemeat slice or a delectable stuffed cherry pie;  A whole world of tasty mains from hearty stews, gammon-stuffed apples and poached ox tongue with olive salsa;  An enticing range of sweet desserts from a summer fruit marble cake to a pumpkin creme caramel;  A variety of pickles, preserves, compotes and drinks to cater to every taste!
Lavishly illustrated with stunning photographs both of the delicious recipes and the breathtaking Romanian landscapes which inspired them, this beautiful cook book will fast become a staple of any kitchen lucky enough to house it. "At a time when we are all forced to stay at home, travelling in the kitchen can be a great comfort. And I have been so grateful for Irina Georgescu for taking me to Romania through the pages of her wonderful book, Carpathia. Every page is imbued with generosity, the spirit of community, and the flavours of a rich and varied culture: it makes for an uplifting, inspiring and gorgeously transporting read right now."Nigella Lawson   "I couldn't be happier to see one of my favourite cuisines being represented by a voice as warm and thoughtful as Irina Georgescu's.
Carpathia is full of delicious and interesting recipes and photos that will tempt you to travel to the Carpathian Mountains immediately."Olia Hercules, author of Mamushka and Kaukasis.  "I've spent the day reading Carpathia by Irina Georgescu… I can't wait to make her smoked ham hock with butter beans, oven-baked barley with chicken, peppers and mushrooms, fried chicken with caramelised quince and - most of all - ossobucco with dill oil and horseradish sauce… Carpathia is a book I'm going to get stuck into this autumn."Diana Henry "The recipes are both wonderfully enticing and extremely approachable, and there's a deftness to the writing that is very beguiling…. And the food is fascinating: a mix of the familiar and the unfamiliar… It offers a welcome window into Romanian culture. And the best thing about it is the love for family and country that just sings through the pages."  Fuchsia Dunlop   "An absolutely beautiful book showcasing Romanian food as a wondrous amalgam of Europe's diverse cuisines.  Real, delicious and accessible - I will be making everything from the plācintā to prajitura, cremsnit to cataif!" Helen Goh, co-author of Sweet with Yotam Ottolenghi.    "Carpathia takes the reader roaming through Romania from Transylvania to the Danube Delta while introducing dozens of satisfying recipes that express the landscape, culture and joys of traditional Romanian hospitality.
This is a book of many virtues, filled with new ideas, flavours and insights."Caroline Eden, author of Samarkand and Black Sea.   "A beautiful book full of life and flavour; I not only want to try so many of the recipes, I now want to visit the country that inspired them." Mark Diacono, author of Sour, The New Kitchen Garden and A Year at Otter Farm.    
Information
Format:
Pages:224 pages, 150 color photos
Publisher:Quarto Publishing PLC
Publication Date:17/03/2020
Category:
ISBN:9780711241824
Information
Format:
Pages:224 pages, 150 color photos
Publisher:Quarto Publishing PLC
Publication Date:17/03/2020
Category:
ISBN:9780711241824